How to Wire a Trailer With Lights & Brakes
by K.K. Lowell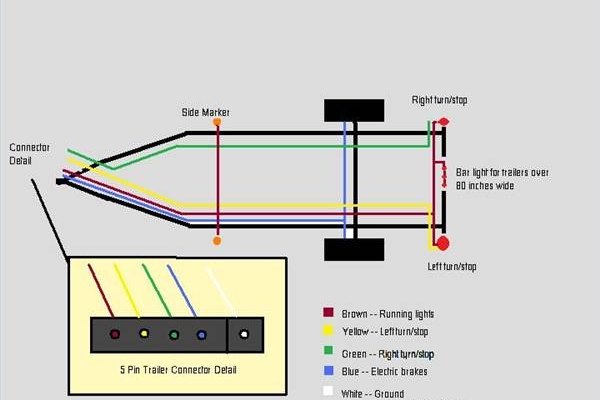 Small trailers must be equipped with lights. Many also have electric brakes. Wiring to these lights and brakes can become cracked and brittle and need replacement. Parts are available online or at local trailer supply stores to install or upgrade the wiring on your trailer, allowing you to do it yourself.
Install the 6 conductor cable in the trailer frame. Split it to allow the brown yellow and blue wires to go down the left side of the trailer and the green wire to the right. The black wire will not be used.
Connect the green wire to the right turn/stop lamp.
Connect the yellow wire to the left turn/stop lamp.
Connect the blue wire to the trailer brakes.
Connect the brown wire to the tail lights on both sides of the trailer and to the side marker lights. If the trailer is over 80 inches wide also connect the brown wire to the triple light bar in the rear center of the trailer.
Connect the white wire to the trailer frame using a self-tapping screw.
Splice all wires to the same color wire on the 5-pin connector.
Warning
Wire color codes may not be the same on the truck as on the trailer. If you're adding a 5-pin truck side connector, use a test light to determine the circuit colors.
More Articles