How to Become a Licensed Car Dealer in Pennsylvania
by Rhonda Campbell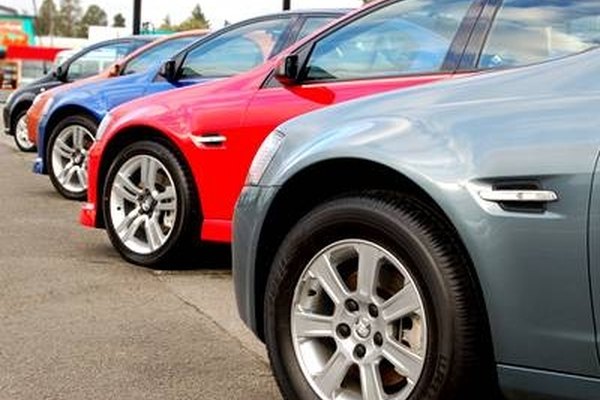 Licensed car dealers are often the first people you see when you go to purchase an automobile. The certified merchants sell new and used automobiles. They negotiate down payment, monthly installment and warranty deals. Becoming a licensed car dealer can appear laborious, especially when you consider the paperwork that must be completed. However, knowing what to do to gain your license makes the process easier.
File Applications and Pay Necessary Fees
Complete salesperson application. Type or print the necessary information on the Salesperson Initial License Application, Form SPOA 2602 (see resources). Use a black ink pen if you decide to print the information on the application. Supply vital data, including your name, mailing address, social security number, date of birth and home telephone number. Provide the address for your business or car dealership. Indicate if you have been previously licensed by the state vehicle board. Pay the application fee, which is about $25. Sign and certify that the information provided on the application is true and accurate.
Submit the vehicle dealership license. Fill out the Vehicle Dealership Initial License, Form SPOA 2602B (see resources). Supply your business name and address. Give the name of the business owner and the type of ownership the car lot falls into, such as sole proprietorship, partnership, association or corporation. Include a design of the dealership's physical location including customer parking areas and designated areas where you will park new and used cars for sale. Supply a copy of the property deed or six-month lease agreement. Request a copy of your dealership certificate of occupancy if you do not presently have it. Call 412-255-2182 if your dealership is located in or near Pittsburgh and 215-868-2467 if your dealership is located in or near Philadelphia or 717-348-4193 if your dealership is located in or near Scranton. Pay the fee, which is about $65.
Apply for dealer plates. Complete the Vehicle Dealer Registration Plates application, Form MV-349 (see resources) to get your registered dealer license plates. Indicate that the application is for new dealer plates. Note whether the dealer plates are for new or used vehicle sales. Provide your name and the names, titles and driver's license numbers of all co-owners, partners and corporate officers. List the types of cars you will sell. Supply the name of your insurance company, policy number and effective policy dates. Confirm that your dealership meets local zoning and building ordinances. Contact a notary public and have the application notarized. Include a copy of your insurance card with the application. Mail the completed application to Bureau of Motor Vehicles, Regulated Client Services Section, 1101 South Front Street, Harrisburg, Pennsylvania 17104.
Fill in the Dealer Bond application, Form MV-375 (see resources). Provide the name of the principal or business owner, business name and street address. Supply the name and address of the surety company that you are bonded with. Sign and date the application. Request that a representative from the surety firm also sign, date and certify the application. Keep in mind that automobile dealers must maintain $20,000 bond for each place of business that is in operation.
Build a contract with the state. Include items such as the days and hours that your dealership will be open for business. Confirm that you will keep the business facilities in a sanitary and presentable condition and maintain sufficient storage space for license plates, registration cards and hire sufficient staff. Validate that you are agreeable to having state representatives performing unannounced audits on your dealership to confirm that your facility meets state guidelines. Submit an original of the completed contract with a copy of all other completed applications to the State Board of Vehicle Dealers, Manufacturers and Salespersons, P. O. Box 2649, Harrisburg, Pennsylvania 17105-2649. Include a copy of the dealer plate application with your packet. Note that you must submit an original copy of the Dealer Bond application to the state board.
Get the criminal history record for yourself and for each partner or corporate officer affiliated with your car dealership. Fill out the Criminal Record Check Application, Form SP4-164 (see resources) to request the criminal records. Supply your name, mailing address, date of birth, gender, telephone and social security numbers. Mail the completed form to Pennsylvania State Police Central Repository, 1800 Elmerton Avenue, Harrisburg, Pennsylvania 17110-9758. Call 717-783-5593 if you have questions about your background investigation.
Tip
check This article covers how to become a licensed car dealer in Pennsylvania.
Photo Credits
photo_camera http://www.themotorreport.com.au/wp-content/uploads/2008/11/holden_car_dealer.jpg