Ways to Decorate a Travel Trailer Camper
by Don Kress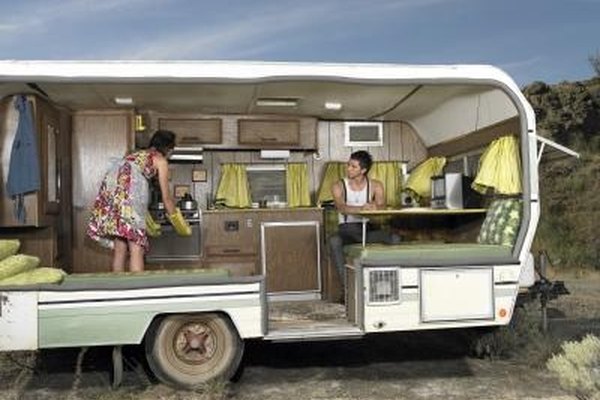 There are numerous different ways in which you can redecorate your travel trailer. For enthusiasts spending most of their time at the beach, an ocean theme is appropriate. Fans of tailgating at their favorite sporting events might choose a sports theme to decorate their travel trailer. Another option to set you apart from other camping enthusiasts would be to opt for a 1950s retro theme, easily accomplished with a bucket of paint and a few yards of fabric.
1950s Retro Theme
Install a 1950s retro theme in your travel trailer by utilizing pastel colors, which were popular in the 1950s, combined with upholstering the seating surfaces in the tuck-and-roll style of a 1950s diner bench seat. If your travel trailer's laminate floor is due to be replaced anyway, opt for the traditional black and white checkerboard tile pattern to hold with the theme of the diner, or opt for hardwood to give the travel trailer a look akin to a warm 1950s era kitchen. To finish off the look, locate a "kitty clock" such as were popular in the 1950s and 1960s, and which you might remember from your grandmother's kitchen. Install the clock using two mounting points to prevent it from falling off the wall while the trailer is being transported.
Sports Theme
Travel trailer enthusiasts who spend most of their free time tailgating with their favorite sports teams might enjoy redecorating their travel trailer to reflect this passion and provide more comfortable parking lot recreation. Redecorating the travel trailer for a sports theme is as simple as replacing the bed linens and curtains with logo-embossed linens, and painting the interior walls of the travel trailer to match your favorite team's colors. Add a few sports themed memorabilia items on the tables and counters for a finishing touch. To spruce up the outside grilling area and match the inside, install a team logo embossed sun shade in place of your trailer's standard white sun shade.
Ocean Theme Travel Trailers
To impart an ocean theme to your travel trailer, paint the interior walls with a soft pastel blue color, then add neutral browns and tans for the bedding and soft surfaces. If the floor is due to be replaced, opt for soft tan carpeting similar in color to sand. Cap off the look by mounting sea shell cabinet pulls available from your local hardware store and fill vases with seashells to decorate the counter space, window sills and tables, securing them to their respective places using strong Velcro patches to prevent the vases from falling and being broken while the travel trailer is on the road.
Route 66
Expanding on the 1950s retro theme, a Route 66 theme is perfect for travel trailer enthusiasts spending their summers traveling America's highways. Recreate the 1950s theme, but add a number of decorative road signs to the walls, including the iconic Route 66 highway sign. Purchase models of three or four of your favorite 1950s cars to place on tables and the counters to finish off the theme. Use Velcro fasteners on the bottoms of the cars to hold them to the counters and tables and prevent them from falling while the travel trailer is being towed. Numerous Route 66 inspired RV accessories are available to further outfit the exterior of your travel trailer including wheel covers and sun shades.
Photo Credits
photo_camera Andy Reynolds/Lifesize/Getty Images