How to Get Vehicle Information From a VIN
by Scott Krohn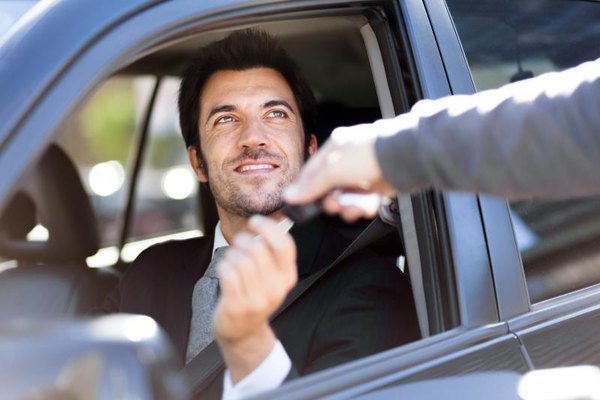 Learning the history of a used car prior to making a purchase can either provide the assurance that you are buying a vehicle with a clean title or alert you to potential problems resulting from damage, including from major accidents. This information is available through three types of services, all of which can provide varying degrees of information using the vehicle identification number of the car.
The Importance of Researching a Used Car's History
Making an informed purchase of a used car requires gathering as much information as possible to determine the accident history of the vehicle and whether the extent of damage resulted in the car being written off by the insurance company at that time. Used car buyers have several options for running title checks using a VIN numbers ranging from free services with limited focus to companies that provide comprehensive vehicle history reports including accident histories, returns under "Lemon Law" policies, deployment of airbags, odometer rollbacks and the history of ownership.
Free VIN Title Checks
The National Insurance Crime Bureau offers title checks through its VINCheck service at no cost. These reports tend to focus on vehicles that have been stolen, not recovered, or reported as being written off and designated for salvage. The NICB culls this information from reports provided by its partners, most of which are insurance companies. The information provided by VINCheck can be limited in scope, due in large part to members that choose what they want to report. For example, if an insurer writes off a car but doesn't report the salvage status to NICB, that information may not show up on the report.
Low-Cost Vehicle History Reports
The National Motor Vehicle Title Information System can be accessed through the DMV portals in most states. The historical data reported in a vehicle history report from NMVTIS is focused on 5 areas: the state and date of last title activity, the brand history, odometer readings, total loss history and salvage history. Information on these indicators is reported by insurance companies, vehicle recyclers, junk yards and salvage yards as required by federal statute. The NMVTIS sells its vehicle history reports through a network of affiliates that require the VIN and a fee for each report.
VIN Checks from Private Providers
Of all the options for VIN-based title searches, the most information is provided by private companies that offer vehicle history reports. These services gather information from a wide range of sources such as mechanics, smog test reports, police reports, and insurers. The information is then used to build reports that include detailed accounts related to salvage designations, accident histories, structural damage, Lemon Law returns, odometer resets, recalls and the history of ownership. For added convenience, these services offer single reports as well as multiple VIN searches for a flat fee.
More Articles
Photo Credits
photo_camera Minerva Studio/iStock/Getty Images