My Trailblazer Is Leaking Red Fluid Liquid
by Baptist Johnson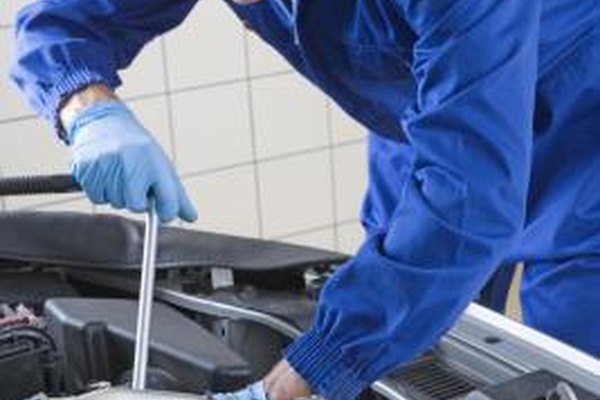 The Trailblazer is a mid-sized sports utility vehicle manufactured by Chevrolet. Troubleshooting your Chevrolet Trailblazer for damage is a regular part of automobile maintenance. The presence of leaking red fluid is an obvious sign that something is wrong with the transmission. Transmission fluid is often dyed red to distinguish it from engine oil and coolant. If you notice transmission fluid underneath your vehicle, conduct a quick check of the transmission and extension housing to locate the source of the leak.
Cause
There are several reasons why your vehicle may leak transmission fluid. There may be a crack in the oil pan connected to the underside of the transmission. If the seal between the transmission and the oil pan is broken, it can also cause a fluid leak. The extension housing may be worn or damaged, which can cause fluid to spew from the transmission. The speedometer drive gear assembly or electrical switches may be corroded, which can cause a transmission fluid leak.
Problems
A transmission fluid leak can lead to serious problems in your vehicle. Transmission fluid helps lubricate the gears to meet the appropriate flow and friction needed inside the transmission. Without fluid to lubricate the gears, your transmission can lock up causing irreparable damage. A temporary solution is to add transmission fluid every few days; however, to correct the problem, you need to find the source of the leak and fix it.
Troubleshooting
The first step to correct a transmission fluid leak is to find the source of the leak. Open the hood area and locate your transmission near the front of the hood area on the driver's side of the vehicle. Visually inspect the transmission and the extension housing, which surrounds the transmission block. Look for corroded areas or metal shavings, which indicate a crack in the transmission. Crawl underneath the vehicle and inspect the transmission oil pan. Ensure the pan is sealed tightly to the transmission by running your fingers around the pan. Look for leaking fluid to pinpoint the source of the leak.
Repair Tips
The consistency of the transmission fluid can often help identify the source of the problem. Transmission fluid is normally red or a lighter pink. If your transmission fluid appears brownish, the fluid is overheating. Drain the transmission and refill it with new transmission fluid. If the transmission fluid appears milky-red, this is an indication that the fluid is leaking into the radiator and mixing with the coolant. Drain the transmission and locate the hole in the transmission or extension housing. Repair the hole and refill the transmission with new transmission fluid.
References
More Articles
Photo Credits
photo_camera IT Stock Free/Polka Dot/Getty Images