Small Block Chevy Tuning Tips
by Chris Stevenson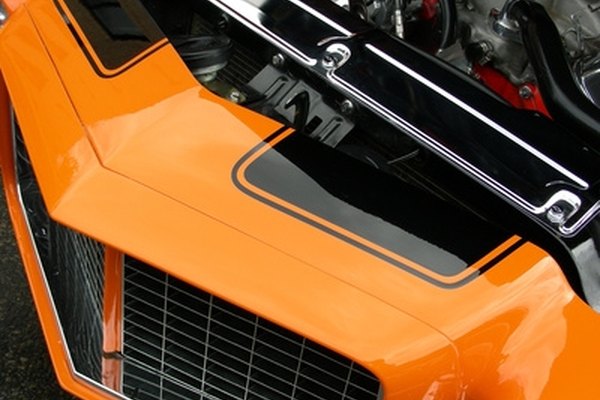 The Chevrolet Motor division has produced a number of winners when it comes to small block V-8 engine designs. The 265, 307 and 327 cubic-inch engines set a precedent for engines that could derive the most horsepower per torque and cubic-inch capacity. The 327 small block was one of the first engines to offer a four-inch cylinder bore.
Spark Plugs
Using high-performance spark plugs for a Chevy tune-up guarantees better gas mileage, quicker acceleration and non-miss firing. High-performance plugs use the best parts and designs for durability and long life. Some plugs incorporate the use of a diamond-shaped electrode that increases spark firing, temperature and even combustion dispersion. Other high-performance spark plugs incorporate double electrodes for increased firing consistency. These plugs can offer as much as a 100,000 mile or five-year warranty over the standard designs, which keeps the tune-up interval extended for a very long time.
Plug Wires
Consider replacing the spark plug wires with a high-performance brand for a major tune-up. Some wire kits come with custom fit silicone wires with extra-thick cores. The conductivity of these wires demonstrate superior quality, while radio noise drops, due to their high suppression qualities. The quality of the outside installation reduces on high performance wires lowers heat and resists burning, much better than stock plug wires. Uni-clip spark plug boots are another option that make for easy installation after the wires have been cut to size.
Distributor Cap and Rotor
The distributor cap poles and rotor electrode have to fire every time and last during extended engine operation. For corrosion-free, high-output caps and rotors, obtain a cap and rotor that has brass terminals. Not only are the brass terminals more resistant to oxidation and burning, they increase voltage transfer with a hotter and more even spark. Caps that have aluminum electrodes tend to burn out and pit more readily than brass. Rotors that have brass electrodes offer increased conductivity and less arc jump.
Ignition Points
Ignition points have to be sturdy, responsive and able to withstand tremendous voltages on a constant bases. When replacing ignition points, the higher the quality the better. Obtain ignition points that provide extra-thick contact arms for steadier operation. The rubbing blocks on high performance ignition points consist of high-strength phenolic rubber for smoother operation and constant contact. Such ignition points have large radius tungsten contact tips that resist burning, along with extra-duty springs which prevents point bounce or float. Look for condensers which have waterproof construction to guard against moisture arcs and shorts.
Air-to-Fuel Ratio
When adjusting the carburetor fuel mixture, an air-to-fuel ratio meter will determine the exact ratio the motorist needs. The meter hooks up via a sensor to the tail pipe (or tailpipes individually) to sense the amount of air vs. fuel that has combusted. For the best fuel economy, a ratio between 14.7-to-1 and 16.1 will provide the leanest mixture. A ratio of 12.8-to-1 to 13.2-to-1 will produce the most hp and torque for those who desire higher performance parameters.
Filters and Valves
Air or cabin filters need routine inspection and replacement with each tune-up. Use air filters that have mass air-flow construction and design, which will allow more oxygenated air to enter the cylinders for combustion. Use fuel filters with heavy-duty traps and durable seine fibers to allow increased fuel flow under high pressure. Always replace or clean out the PCV valve, which promotes maximum intake manifold vacuum for sensors, diaphragms and vacuum switching valves.
More Articles
Photo Credits
photo_camera orange and black image by John Sfondilias from Fotolia.com