Should I Add Leather Seats to My Car After I Buy It?
by Dan Antony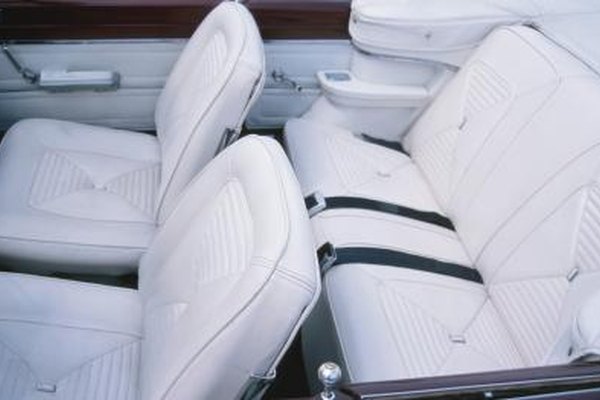 "Many collectible cars are worth more in all-original condition," writes author Bruce Caldwell in his book "Auto Upholstery and Interiors." Caldwell makes the point that if your car is a '57 Chevy Bel-Air or a '64 Cadillac, then you retain its value by retaining the original materials and condition. But perhaps you have a newer Pontiac or Ford Mustang and you are considering reupholstery in leather. You should be aware of the facts regarding the "value-addedness" of leather upholstery.
Restoration
"A tasteful modified or quality restored interior will mean the difference of thousands, if not tens of thousands" of dollars in resale, writes Hemmings Motor News editor Daniel Strohl in his "Muscle Car Restoration Interior guide." You retain more of a classic car's value through faithful restoration of its original condition and materials. So a new leather interior is an excellent choice for a '64 Cadillac with a cream-colored leather interior, versus going with a less costly cloth interior. Also true, restoring the upholstery makes use of as many original materials as possible (including the cushioning and framework), and more original materials means more value.
Appreciation
An automobile is more like a boat than a home; age does not add appreciation; rather, it adds depreciation. Adding leather upholstery to most cars (which is called "conversion") will not affect the Kelley Blue Book value (the industry standard resource for used car value) by an appreciable amount. Even the most lovingly maintained four-door 1990 Volkswagen Golf is worth all of $1,625, and the owner cannot expect to recoup $1,500 worth of leather reupholstery. But Kelley details the depreciation based upon interior condition. A car will gain (or lose) value based upon the condition of its upholstery, including stains and wear; tears or burns; and smoke and mold odors. A higher-value car like a Jaguar or Mercedes may be worth the investment, but a production GM or Ford sedan is likely not. An antique or classic car is generally considered to be 25-years-old or older. So reupholstering or replacing the interior of a car newer than that will not affect its value.
Cost Justification
Conversion is a personal choice; you can expect to spend between $800 and $2,500, as of 2010. As one of the upholstery shops put it, "If you like it $3,000 worth, then it's worth $3,000." You cannot expect to recoup the value of conversion in a production car as you would in a collectible car, but you may simply enjoy the car more. Consider how long you expect to keep the car, how much you will enjoy the new interior and how much you can afford. Regardless of the practicality, you may simply enjoy the luxury of leather enough to justify the cost.
References
More Articles
Photo Credits
photo_camera Hemera Technologies/AbleStock.com/Getty Images