How to Secure a Cab Over a Camper
by Nathan Fisher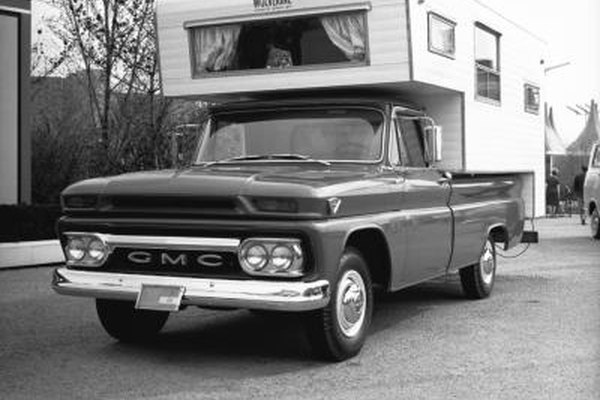 Commonly referred to as truck campers, cabover campers sit in the bed of a pickup with a bunk area that extends forward over the roof of the truck. Because they are carried on the back of a truck, cabover campers can be taken into areas of rough terrain that motor homes and travel trailers can't traverse. For safety purposes, cabover campers are secured to the truck's bed to keep it from sliding and bouncing around in the truck.
Orient the tie-down bracket so the attachment arm points to the outside edge of the truck bed. Insert the tie-down brackets into the corner stake pockets on the rail of the truck bed. Place the rail protection padding under the brackets with your fingers. Push the tie-downs firmly into the holes, and tap the brackets down with a rubber mallet if necessary.
Fasten the tie-down brackets to the truck rail. Screw the mounting bolts into the bracket through the access hole on the inside of the stake pockets. Do not tighten the bolts down completely.
Attach the locking clamps. Slide the clamps under the back inside lip of the bed rail. Line the holes in the clamps up with the holes in the bracket and screw in the attachment bolts with your fingers. Tighten the bracket mounting bolts and the clamp mounting bolts tightly with a wrench.
Load the camper onto the truck bed, leaving a 1-inch space between the front wall of the camper and the truck's front bed rail.
Attach the hooks on one end of the mounting chains to the tie-down holes in the arm of the brackets. Connect the hooks on the opposite ends of the chains to the factory installed tie-down brackets on the corners of the camper.
Tighten the turnbuckles on the chain with your hands until all slack has been removed from the chains. Tighten the turnbuckles one full turn further with a wrench.
Warning
close Select tie-downs that are rated for the size and weight of the camper.
Photo Credits
photo_camera George Marks/Retrofile/Getty Images