How to Seal My Boat Dock
by Caroline Baldwin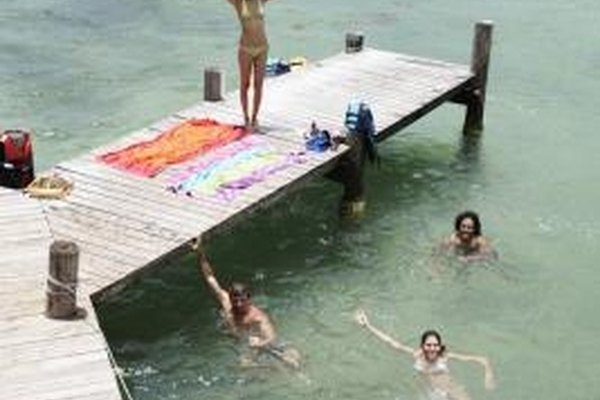 Properly sealing a boat dock will save you thousands of dollars over the life of the dock. A boat dock that isn't sealed is exposed to the harsh lake or sea elements and can rot. Once a dock has rotted or is water damaged, they become unsafe and will have to be replaced. Sealing a dock is very similar to sealing a deck at your home; you must clean it, sand it, and seal it. The job is easy to accomplish on a sunny weekend.
Check the weather report. You will need two days without precipitation with temperatures ranging from 50 degrees Fahrenheit to 90 degrees Fahrenheit. The seal must have time to dry before it gets wet again.
Remove everything from the boat dock. The surface must be clear of all items such as ropes, chairs and boat accessories.
Sweep the entire surface of the boat dock. While sweeping, inspect the deck for any nails which need to be reset or replaced.
Clean the seams between the wood planks with the edge of a long scraper. A flat-head screw driver is a good alternative to the scraper.
Use a deck cleaning product to clean the boat dock of mildew or mold. Follow the instructions on the packaging for best results.
Put on the safety mask. Sealant fumes can be harmful if directly inhaled.
Pour the sealer into a 5-gallon bucket. Pour the sealer on the shore if you have a floating boat dock to prevent spills.
Insert the spreader screen into the bucket. Attach the roller to the extension pole.
Roll the sealant onto the boat dock by starting in a corner and working towards an exit.
Spread sealer into the seams and trim with the paintbrush.
Let the sealer dry for 3 hours before walking on the dock.
Apply 2 to 3 coats of sealer on boat decks that are exposed to salt water or a rainy climate.
Use soap and water to clean the roller and brush.
Tip
check Test the wood each year to check that the sealer is still protecting the boat dock by sprinkling water on the dock. If the water beads up, your boat dock is still protected; if the water soaks in, you will need to reseal your boat dock.
Photo Credits
photo_camera Jim Arbogast/Digital Vision/Getty Images