The Best RV Roof Sealers
by ToniH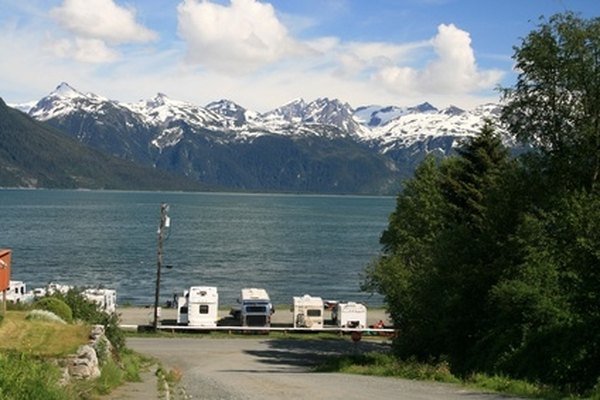 The number of people choosing to travel by recreational vehicle (or RV) is rising as every day passes. People feel it is convenient, adventurous, and can be the basis of a very inexpensive lifestyle. As with all vehicles, every so often, a recreational vehicle will need a part repaired. Because of the design of RV roofs, many have rubber membranes that commonly become leaky or torn. There are many products available that allow RV owners to repair this fairy easily and fairly inexpensively.
RV Rubber Roof Repair Membrane
The RV Rubber Roof Repair Membrane is probably one of the simplest options available to repair your RV's roof. Available in a roll, the self-adhering EPDM rubber conforms to many shapes and surfaces. It does not contain asphalt, solvent or VOCs (volatile organic compounds). It is water resistant and tolerant of extreme temperatures. It's available in a six-inch-wide, 25-inch-long roll.
Plas-t-cote Elastomeric RV Roof Coating
If you are repairing a rubber roof, a self-leveling sealant will work best, such as Plas-t-cote Elastomeric RV Roof Coating. It's ideal for not only rubber RV roofing, but made for usage on galvanized steel as well. It is durable, resists cracking, and expands and contracts with the roof. It is also 100-percent acrylic, non-polluting, and non-toxic. It is available in one- and five-gallon sizes.
Dicor Patchit RV Roof Repair Kit 402PR
Ideal for minor repairs, the Dicor Patchit RV Roof Repair Kit 402PR is another inexpensive option for the repair of small tears and breaks. Included: a nine-by-10-inch rubber patch and a tube of lap sealant. This is another versatile product. It can be used to patch EPDM rubber, TPO plastic, metal and fiberglass roofing.
Alumibond/A-Seal, Eternabond
For unexpected tears, it can be a good idea to keep a roll of a simple duct-like tape on hand called Aluminum Tape. Aluminum Tape is very strong and is multi-purpose. Eternabond is a frequently recommended metal roof and trailer repair tape. It is flexible and easy to work with on many different surfaces. It is also environmentally and user friendly.
More Articles
Photo Credits
photo_camera motorcoach,motorhome,rv image by Greg Pickens from Fotolia.com