How to Get Rid of the Smell in the Black Water Holding Tank in an RV Trailer
by Kay Matthews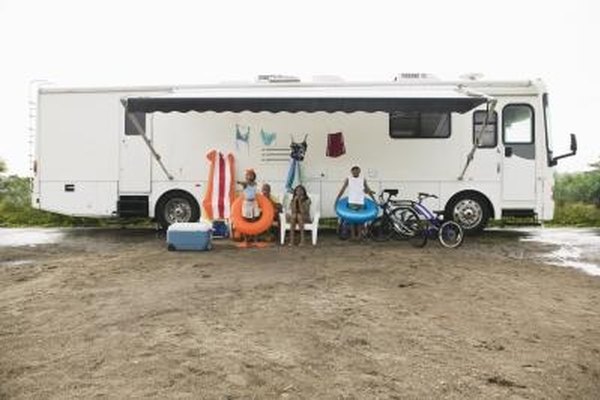 One of the benefits of traveling in an RV is not having to stop to find a public restroom, as most RVs have a toilet. Because an RV is mobile it is not possible to connect an RV toilet to a septic system, so the waste is funneled to a black water holding tank which must be emptied at designated dump sites. Even after the black water tank has been emptied, it may still smell bad. Keeping foul smells at bay is possible with chemicals that will reduce odor and combat the build-up of solids in the tank.
Visit a retailer that sells black water holding tank treatments such as Sam's Club, Walmart, Lowe's or Home Depot.
Select a tank treatment product. There are many on the market in both powder and liquid form. Some brands from which to choose are OdoBan, Aqua Kem, SupremeGreen, Aqua-Zyme, Campa Chem and Eco-Smart.
Drain and rinse the black water tank. Close the valve and add enough water to cover the bottom, one-inch deep.
Use the amount of chemical recommended on the product packaging. Add product to the toilet a little at a time, flushing the toilet after each addition. Complete this process until all of the chemical has been added. This method helps to distribute the chemical throughout the black water holding tank.
Tip
check Chemical treatment should be added after each black water holding tank dump to minimize odors.
Photo Credits
photo_camera Jupiterimages/Comstock/Getty Images