Rhino Lining Vs. Line X
by Kevin Scobee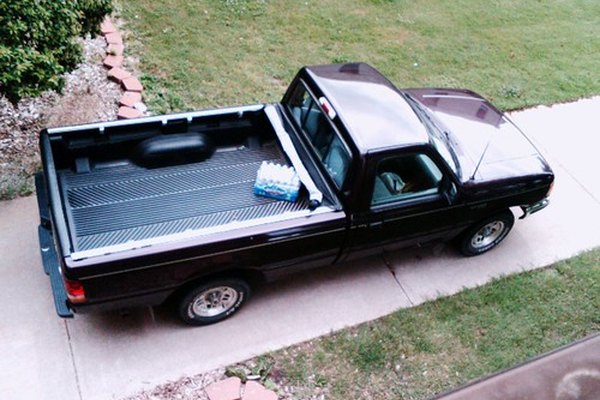 Aftermarket bed liners can add appeal and protection to any vehicle hauling or carrying cargo. Rhino Lining and Line X, two leaders in the market, are at the forefront in innovation and research to manufacture the best product possible.
History
Rhino Lining was established in 1988 with the mission to "develop proprietary high performance chemical formulations…for retail applications." Based on a 100-percent-solid environmentally friendly formula, Rhino Lining's products have made the company the world's largest manufacturer of sprayed-on polyurethane. Headquartered in Santa, Ana, Calif., Line X was the first nationwide spray-on truck bed liner franchise and has grown to be in 550 locations in 26 countries worldwide.
Facts
Made from a combination of polyurethanes and epoxies, Rhino linings contain no volatiles organic compounds. The permanent, watertight bond between the lining and the surface being sprayed on, whether it is truck beds or roofing, provides protection against rust and corrosion. Line X not only is used for commercial applications, but industrial, agricultural and the military have also used the products. With a full-time research and development department that works out of a 15,000-square-foot facility, Line X is tested by the Army Corps of Engineers and the Air Force Research Lab.
Features
Rhino products like HardLine, which is the hardest bed liner Rhino makes, are used for heavy-impact surfaces to protect against scratching and damage and are applied to commercial vehicles, heavy equipment, machinery and flooring. A similar product from Line X, XS-100, is made of a polyurethane and polyurea blend formula that receives high industry marks for its durability and long lifespan.
Considerations
Rhino liners are applied cold with low pressure to ensure a greater thickness (3/8 to 1/4 inch) than Line X and a softer, rubbery feel. However, because the lining is applied thicker, it does not follow the contours of the truck bed as well, making for an inconsistent thickness. The Line X liners are applied hot using a high-pressure system, which gives a post application sparkle to them. Even though they do tend to be a rougher surface that can be hard on knees and cargo, the more polyurea in the formula make the liners stronger and more tear resistant.
Expert Insight
According to Tundra Headquarters, a website that deals with accessories and other aftermarket add-ons to Toyota Tundra trucks, the clear choice between the two brands is an easy one, saying, "Line X liners are usually better looking…are stronger, and Line X installation quality tend to be higher."
More Articles
Photo Credits
photo_camera Image by Flickr.com, courtesy of Chris Chan