How to Replace a Broken Side View Mirror
by Marlon Trotsky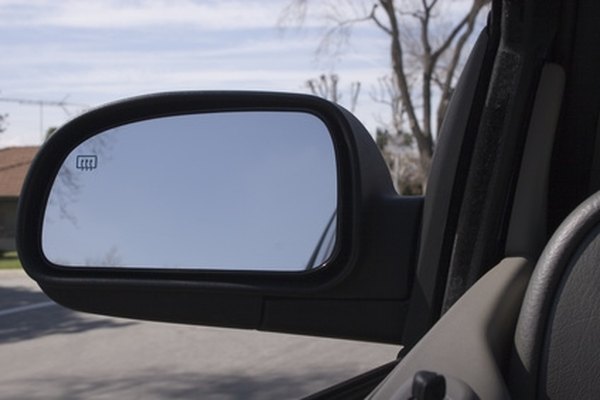 There you are walking to your car, parked on the side of the street, when you notice that your side-view mirror is inexplicably cracked. Your insurance may or may not cover the damages, but in the end replacing the mirror yourself may save you money over taking your car to a repair shop. You may want to consult a mechanic before attempting anything, or at the very least, acquaint yourself with the owner's manual. First, determine if you have an electric or manual mirror. The latter is usually easier to replace, since you don't have to deal with any wiring.
Order an aftermarket replacement from a reputable online vendor, making sure the it matches the factory paint color code of your broken mirror. You will likely save a considerable amount by buying an aftermarket mirror, as opposed to paying the dealer price. Also check at a local salvage yard as those usually have a surplus of replacements, particularly manual mirrors.
If you have an electric mirror, turn off the engine and detach the battery's negative cable. Take the mirror trim panel off with a door panel remover tool, to get to the mirror's electrical connector. If you have a manual mirror all you have to do is take off the mirror trim panel and remove the retaining screws. Then, carefully remove any shards of glass and clear out any other broken fragments or adhesives before you install new mirror glass. Apply permanent, water- and heat-proof adhesive to the new mirror before you attach it.
For an electric mirror, remove the door trim panel, being sure to account for all the fasteners. These trim panel screws are often concealed behind decorative vanity caps (DVC). Pry the DVCs off with a hooked pick to reveal the screw underneath. DVCs, which often resemble relatively innocuous round covers, can be found under the armrest or behind the speaker grills.
Remove the fasteners (which are shaped like Christmas trees), by popping them out of their holes using the trim panel removal tool. Feel around for the fasteners along the edge of the trim panel. Next lower the window and remove the trim panel.
Unscrew the three mirror-mounting screws on the side of the door and follow the cable leading to the electrical connector, which you must detach from the mirror. Attach the new mirror and reconnect to electrical connector.
Test the mirror to see if it is working correctly before putting the screw back, reinserting the trim panel fasteners using a rubber mallet or your fist to push them in. Then finish reassembling the door trim panel.
Tip
check If you have manual windows you will have to remove the window crank before you can get to the trim panel.
More Articles
Photo Credits
photo_camera side view mirror image by Martin Shipps from Fotolia.com