How to Repair a Carefree Awning
by Jane Humphries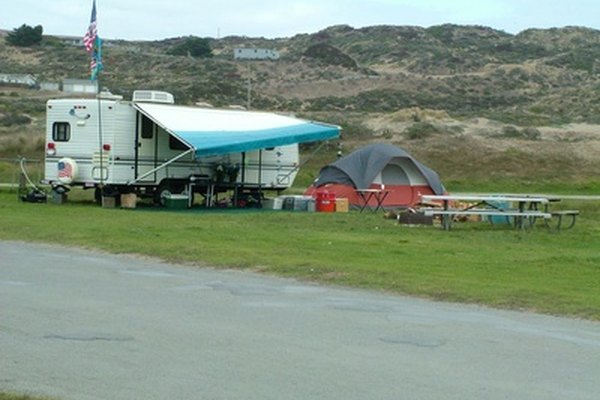 Carefree produces patio and companion awnings in acrylic and vinyl material for recreational vehicles. Windy weather conditions can tear the awning. It is important to repair the damage as soon as possible to prevent further rips. Repairing a Carefree awning yourself costs less than replacing the fabric, so it is useful to know the right procedure to ensure the longevity of the repair. Using awning repair tape from an RV or home awning supply store is suitable for the Carefree material types.
1
Use a lint-free cloth soaked in a solution of water and detergent to wash the repair site clean of dirt and grease. Use a water-based mold cleaner to continue cleaning the awning if mildew is present on or around the tear. Rinse the awning with water to remove any detergent or cleaner residue from the surface.
2
Dry the awning with clean, lint-free cloths to soak up the excess water. Allow the awning to air-dry in warm weather to evaporate any final moisture from the surface.
3
Position the awning repair tape 1 inch beyond the tear line onto sound fabric. Unroll the tape onto both sides of the tear to join the Carefree material together. Smooth out the tape with your fingers to release trapped air bubbles.
4
Cut the tape with scissors at the end of the tear line. If the rip is irregularly shaped, cut lengths of tape and apply in straight lines to match the shape of the tear line.
5
Roll out the tape onto the other side of the Carefree awning to match the repair you did previously. Follow the tear line and draw your fingers along the tape to remove air bubbles. Cut the awning tape at the end of the tear line to finish the repair.
References
More Articles
Photo Credits
photo_camera rving, image by Greg Pickens from Fotolia.com