Problems With the Vanagon
by Shari Caudill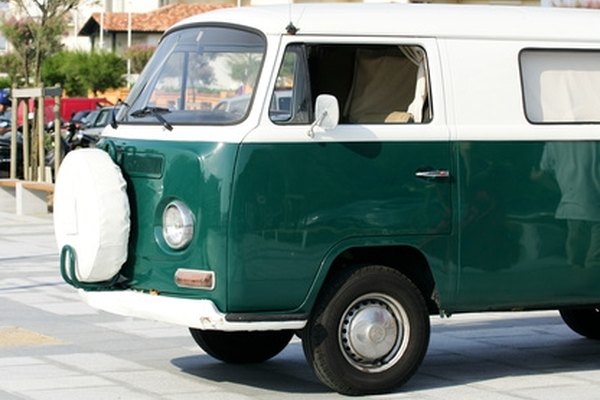 Volkswagen produced the first series of Transporters from 1949 to 1967. Also known as the Microbus or station wagon, Transporters utilize a water-cooled engine called a Wasserboxer. Wasser is the German word for water. The pistons oppose one another inside a flat engine and appear to "box." This lead to the term boxer. Vanagon is the third generation of Transporters.
About Vanagons
Volkswagen produced Vanagons from 1980 until 1991. The Vanagon featured body contours that were more square than previous models and large windows and windshield. From 1983 until 1985, Vanagon's fuel injection system called Digijet analyzed the engine's RPMs and temperature to determine the proper amount of fuel. Modifications to the Digijet system lead to the development of Digifant in 1986. The Vanagon website describes the Digifant system as a less "complicated version of the Bosch Motronic fuel injection used on BMW's and Porsches."
Recalls
According to Motor Trend, before purchasing a Vanagon, you should ensure the previous owner repaired all issues raised by recalls. Vanagons experienced re-occurring issues with the center air flow duct throughout its production. According to Motor Trend, the plastic duct is fastened by two mounting screws to the ceiling of the passenger compartment. It can crack, break, separate and strike passengers. Between 1980 and 1985, Volkswagen recalled and repaired slide-in camper latches, the defroster/defogger system, loose bolts on the front control arm/upper ball joint and door latches. An anchor problem on passenger seats led to a 1987 recall. The seat could break loose and injure the passenger. Possible leaks at the seam of the plastic casing around the in-line fuel filter, shrinkage of the fuel hose on the engine's fuel distribution rail, deformation of the sending unit cover, an improperly-seated fuel tank filler neck pipe and stalling caused by high engine load and ambient temperatures lead to recalls. A transmission issue in 1987 resulted from improper welding. The pin in the shift-locking pawl can separate and make the shift lever immovable without pressing the safety-release button. When using cruise control, the accelerator cable's tension allowed it to sag and possibly entangle with the water pipe bracket. When this happened, the cable was unable to return to the idle position.
Other Problems
According to the Repair Pal website, leaking O-rings and porous cylinder heads leak and cause overheating. Plastic cooling system components can fail abruptly. Coolant, oxygen and air flow sensor failures and excessive oil use are common. The transmission oil cooler fails and permits coolant to mix with transmission flood resulting in extensive automatic transmission damage. Noise and reverse gear failures are common in manual transmissions.
References
Photo Credits
photo_camera minibus volkswagen, image by bacalao from Fotolia.com