How to Make an Emergency Power Steering Hose Repair
by Contributor

Ever had a power steering hose spring a leak and you are in the middle of nowhere, there is a parts store but your part isn't available. I will show you a quick and easy way to repair a power steering hose.
Step 1
Determine leak location: You have established you do have a power steering hose leaking, you can turn the steering wheel with the engine running and power steering fluid will spray out the hole in the hose, you may need an assistant for that part. You may also need to jack up the vehicle to see where it is leaking from. Set parking brake and use blocks or jack stands for safety after lifting vehicle. You may have to add fluid to an empty power steering pump to locate the leak.
Step 2
Cut the hose: After you have determined where the leak is, then remove the bad spot in the hose. I happened to do my emergency repair in front of a NAPA store, I bought the parts from there and the store owner was kind enough to loan me a few tools to get the job done. He had a hose cutter that worked great to cut off the bad hose. We kept the bad spot of the hose for a vacation souvenir. The picture shows what I used for parts.
Step 3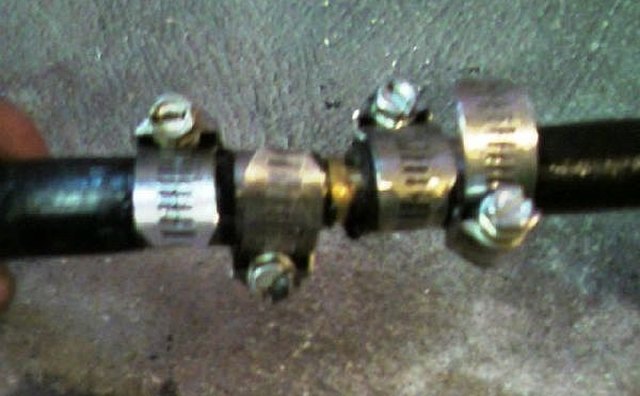 Install the hose clamps: Install the hose clamps 2 on each side, and stagger them as shown in the picture. This allows you to get them closer together and have more clamping force on the splice. Slide in the brass coupling, install the hose clamps on the other end of the hose and slide the hose into the coupling. Make sure you slide it all the way on.
Tip
Don't hold the steering wheel against the stops as this causes the hose pressure to jump up to 1,000 psi. This caused the hose to blow off and I had to repeat the repair.
Warnings
This is an emergency repair, and the hose should be replaced as soon as you can locate a new part.

Hydraulic oil on a hot exhaust manifold or pipe can cause a fire
Items
you will need
Air hose spice kit
Heavy duty hose clamps
hand tools such as screwdrivers, 1/4 inch socket set and small wrenches
pocket knife
power steering fluid
More Articles