What Kind of Cargo Did Steamboats Hold?
by Chris Stevenson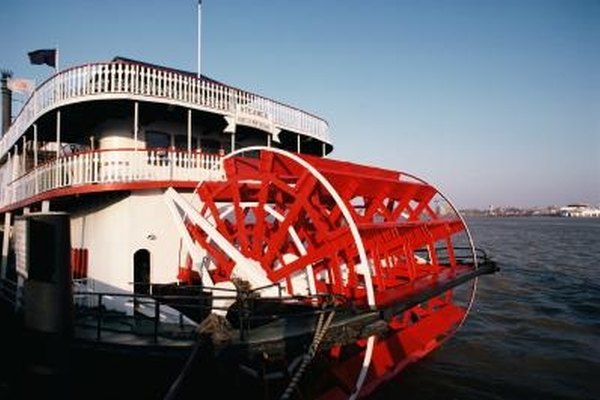 The emergence and application of the steam engine on the side-wheel and stern-wheel steamboats revolutionized travel and transport on the waterways of the American continent. Sail and muscle power for moving watercraft were replaced by a sturdy and powerful engine that did all the work. Steamboats were employed on major American rivers such as the Mississippi, Kentucky, Arkansas, Des Moines, Missouri and the Big Sioux. Steamboats carried passengers, but their versatility and huge spacious platforms allowed them to carry and transport important cargo.
Agricultural Items
Montana was settled by homesteaders eager to get in on the gold rush in the 1860s. Steamboats traveled as far up as the mouth of the Yellowstone River. The steamboats carried farm and construction implements such as plows, shovels and axes. They also stored oxen in their cargo hulls, needed to pull the plows. They carried thousands of barrels of crop seed in their holds, needed by settlers who began to create farms and agricultural areas.
Lead
Starting in the 1820s, steamboats transported huge quantities of lead picked up at the Julien Dubuque's mines close to the city of Dubuque, Iowa. More than 7,645 trips were made by 365 steamboats. A total of nearly 5 million tons of lead was carried downstream while the mining of lead prospered.
Glass
When the production of glass began in the Ohio Valley, steamboats were needed to move huge quantities of it to other eastern coast cities and to the south. Glass plants were set up in West Virgina and Pennsylvania, which also needed steamboats to transport glass.
Coal and Steel
Coal was transported by steamboat to Pittsburgh in enormous quantities from outlying Pennsylvania areas, Kentucky and West Virginia. Steel was then picked up and transported from the steel mills of Pittsburgh to virtually all the major river cities for the construction of steam engines, tools and agricultural machinery.
Human Military Cargo and Supplies
As was the case of the Sultana in 1865, it was not unusual to take aboard enlisted men and officers of the Confederacy and Union armies for transport to the fighting fronts. This also included horses, animal feed, weapons and ammunition. The Federal government, in the case of Union soldiers, paid as much as five dollars for enlisted men and 10 dollars for the transportation cost of officers to the steamboat companies.
Produce and Light Hardware
Steamboats traveled from Nashville to New Orleans during the major shipping season, which ended on July 1. Their cargo holds were laden with bales of cotton, corn, hogsheads of tobacco, thousands of bales of cotton and sacks of sugar. Steamboats left New Orleans for the return trip to Nashville, loaded with dry goods, queen's ware and salt.
U.S. Mail
In 1813, Congress gave the steamboat transportation system full authority to deliver the U.S. mail. The inventory included parcel packages, letters, packets, newspapers and postcards. This worked out well for the river cities and ports, but not so well for the longest overland routes, such as the vast distances between San Francisco and New York.
Short-Range Goods and Products
Steamboats were sometimes limited in their range in carrying certain commodities. Shorter trips were made carrying factory-produced furniture such as tables, chairs, pianos and ceramic tableware. Wool, livestock, bricks, staves, construction logs and lumber also made shorter runs to port cities.
Photo Credits
photo_camera Jupiterimages/Photos.com/Getty Images