How to Install an Oil Cooler
by Eli Laurens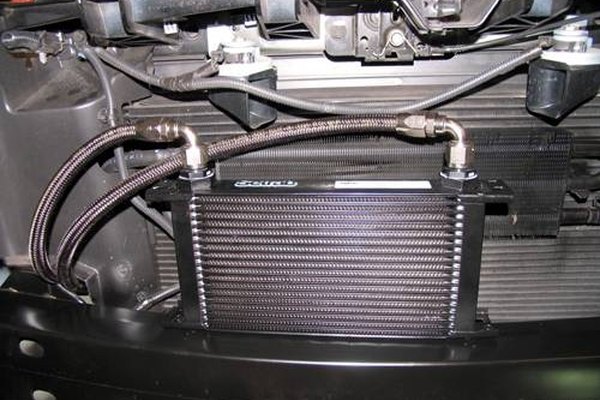 Oil coolers are small radiators placed in front of the primary engine cooling radiator to lower the temperature of the engine oil. The oil cooler is usually linked to the engine with steel tubing and rubber hoses, through either the manufacturer's precut terminals or drilled holes. The average backyard mechanic can install an oil cooler in about two hours.
Locate the original equipment manufacturer (OEM) oil port holes for the addition of an oil cooler, or drill the appropriate holes manually. Drilled holes should be positioned so that there is one line going from the oil pan and one leading to the oil pump. Oil pumps can be located in different places on any given motor and should have an adapter hole or drill point nearby. Detailed engine schematics should be obtained when drilling these holes to ensure that they are in ideal locations.
Couple the oil line adapters to the holes and secure them tightly with the bolts provided in the kit. These "line" bolts have hollow centers that allow oil to flow through them.
Route the oil line tubes or hoses to the front of the vehicle and secure them away from other engine equipment if possible. Most oil cooler kits will come with right-angle adapters for making difficult bends or linking the hose with the oil radiator.
Mount the oil radiator and link it to the oil lines. The oil cooler system will be empty until filled by starting the car, and a quart or two of extra oil should be added until the system is full.
Tip
check Oil coolers can also be used for transmissions.
Warning
close Use safety equipment when drilling or working on a vehicle.
More Articles
Photo Credits
photo_camera www.gsmotorsports.com