How to Identify Early Ford Frames
by Floyd Drake III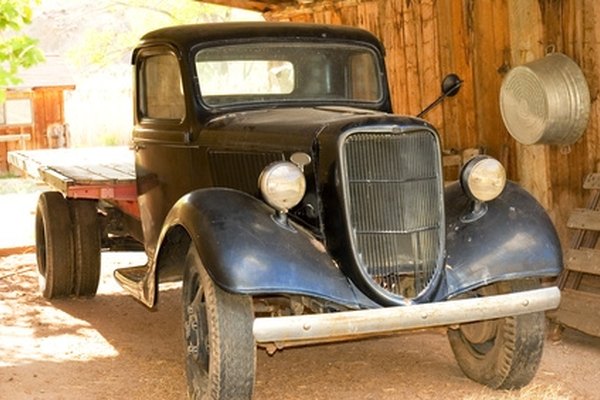 Early Ford frames from 1932 to 1948 are stamped with a serial number on the front, middle and rear of the driver's side frame rail. The serial number is a sequential production number which indicates the order it came off the assembly line. As this number sometimes carries over from the previous year, consulting a listing to verify the production order for a particular year is necessary. Also, by matching the engine casting along with the serial number, the frame and engine can be matched.
Find the frame serial number. Van Pelt Sales' early Ford serial number page notes the only visible one is the forward stamping, with the other two accessible when the vehicle is off the frame. Locate the number by looking looking down toward the driver's side frame, toward the firewall under the hood. Beginning with the first vehicle manufactured that year and ending with the last, the number consists of hand-stamped, 1/4-inch characters, preceded and followed by an asterisk to prevent alteration. An illustration of the frame serial number locations is found at the bottom of the Van Pelt Sales' page.
Determine the frame's year of manufacture by cross-referencing the sequential number to the listing found on Van Pelt Sale's early Ford serial number page. The listing shows the first and last vehicle serial number for each year; you have to fit your number between the two.
Locate the engine code. The serial number is also stamped on the top of the transmission flange where the transmission mounts to the engine, visible when the floorboard and transmission cover plate are removed. An illustration of its location is found on Van Pelt Sales' transmission flange serial number location page.
Decode the engine number.
Tip
check By matching the numbers found on both the engine and frame, the two can be matched. Over the years, these parts have been swapped and restored with those of other vehicles, as frames and engines were interchangeable during this period.
Photo Credits
photo_camera american vintage truck image by Pierrette Guertin from Fotolia.com