Honda 300 ATV Specs
by Jillian O'Keeffe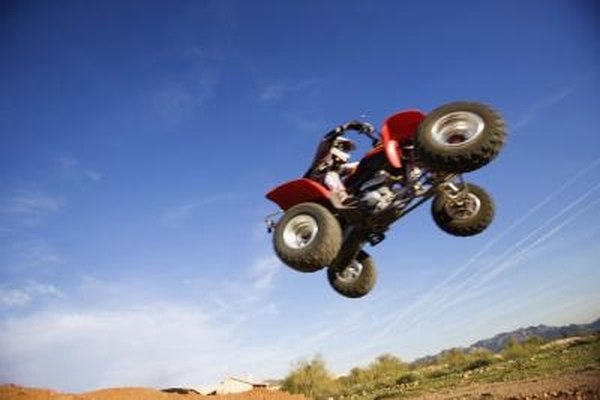 Honda has built all-terrain vehicles for the American market with the designation 300 since the late 1980s. These include the Fourtrax, Sportrax and TRX names. The latest model is the 300 TRX300EX, which is built for the sport and recreational riding market.
TRX300EX Engine
The TRX300EX has a 282-cubic centimeter engine with a single cylinder. The engine is liquid cooled and has a single-overhead cam design, which means that the camshaft directly controls the valves, without the use of pushrods. The engine has a bore and stroke of 2.9 by 2.6 inches or 74 mm by 65.5 mm. The bore is the diameter of the engine cylinder opening and the stroke is the total distance the piston travels up and down. The ATV has an accelerator pump carburetor fuel induction system and a capacitor discharge ignition along with an electric start.
TRX Transmission and Suspension
The TRX has a manual five-speed transmission with a chain final-drive system. The chain is used to transfer power from the engine to the rear wheels. The ATV has a reverse gear to get riders out of sticky situations, or simply to reverse out of a small garage.
The front suspension of the TRX300EX has an adjustable double-wishbone suspension with 7.1 inches of travel -- distance the suspension travels freely to absorb shocks. The rear suspension uses a swing arm with a single shock and 7.9 inches of travel and is also adjustable.
The front brakes are dual disc and the rear wheels use single-disc brakes. A disc brake is a metal disc fixed to the wheel. When force is applied by pulling on the brake lever, pads push on the disc and cause friction, slowing the wheel.
TRX300EX Dimensions
The newest Honda 300 ATV is 67.7 inches long, 43.5 inches wide and 41.8 inches high. The front tires are 22 x 7-10 knobby radial and the rear tires are 22 x 10-9 knobby radial. The seat is at a height of 30.5 inches and the ATV has a ground clearance of 4.6 inches. The ATV weighs 390 lbs. and has a turning radius of 10.2 feet. The fuel tank holds 2.2 gallons with has a 0.5 gallon reserve to give riders time to get back to base if riding out in the wilderness.
Older Honda 300 ATVs
The 2004 Sportrax 300Ex version is slightly lighter at 377 lbs. and has a seat at 30.3 inches high but generally shares the same engine and chassis specs of the newer TRX300EX.
The 2000 Fourtrax, also with a 282-cc engine, is longer than the TRX at 75.2 inches, has 1.7 more inches of ground clearance and a larger, 3.3-gallon fuel tank. The Fourtrax is about 100 lbs. heavier than the TRX and has automatic five-speed transmission where the TRX has manual transmission.
More Articles
Photo Credits
Jupiterimages/Brand X Pictures/Getty Images