Height Requirements for Car & Truck Lifts
by Richard Rowe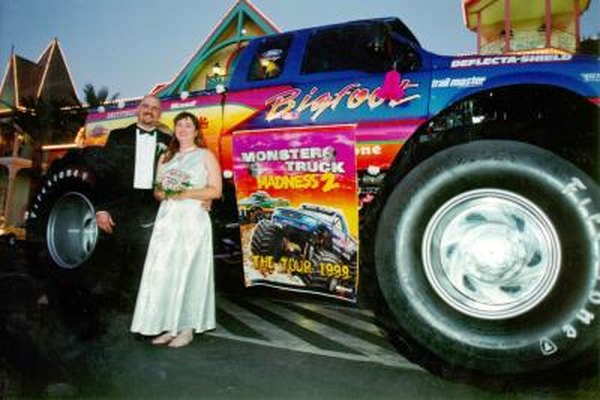 Gone are the days of federally mandated tire standards, and the old ways of regulating truck ride height. Total height regulation, allowable suspension modification and ride height vary by state, and are often based on the distance of the truck's bumper or light from the ground. These tolerances often vary by the vehicle's weight and wheelbase.
Reflectors
Alabama: Reflectors no higher than 60 inches from the ground. Kansas: Must be incorporated, no more than 60 inches from the ground.
Head and Tail Lights
Alaska: Front bumper 54 inches from ground, rear 24 inches. Arkansas: Headlights no lower than 24 inches from ground, no higher than 54. Colorado: Headlights 44 inches from ground, taillights 72. Washington DC, Indiana, Kansas, Louisiana, Maine, New Mexico, New York, Oklahoma, Oregon and Texas: Headlights must be between 24 to 54 inches from the ground, taillights can be15 to 72 inches.
Bumper Height
Connecticut, Delaware, : Front and rear no more than 30 inches from ground. Florida: For trucks more than 3,000 lbs, bumper height is 28 front and 30 rear. Georgia: No more than 2 inches above or below the factory height. Hawaii: Front and rear height is 33 inches for trucks with a Gross Vehicle Weight (GVWR) of 4,501 lbs to 7,500 lbs. Idaho, Illinois, Michigan, Missouri, Ohio,Tennessee and Vermont: GVWRs of under 4,500 are 24 inches front and 26 rear, up to 7,500 its 27 and 29 inches, and over that it's 28 and 30. Max for TN is 28 inches. Indiana: No more than 3 inches above or below factory height. Minnesota: 25 inches from the ground front and back. Nevada, New York: No more than 24 inches front and rear. New Hampshire: No more than 20 inches front and rear. Pennsylvania: No more than 30 inches front and rear when truck is unloaded. Virginia: 4,500 lb GVWR is 28 inches front and rear, 4,501 to 7,500 is 29 and 30 inches, and 7,501 to 15,000 is 30 front and 31 rear. West Virginia: no more than 31 inches for under 10,000 lb. GVWR.
Total Height
Arizona, Arkansas, Iowa and New Hampshire: Total vehicle height of no more than 13 feet six inches. North Dakota and Oregon: No more than 14 feet loaded or unloaded. Going over 13 feet six inches in height is never advised for any state, as this is the minimum clearance for bridges on the interstate and on designated truck routes.
Massachusetts and Utah
Maximum Lift = Wheelbase times Wheel Track (Width), divided by 2200.
References
More Articles
Photo Credits
photo_camera Getty Images/Getty Images News/Getty Images