How Fuel Injection Works in a 1957 Corvette
by Edmund Gary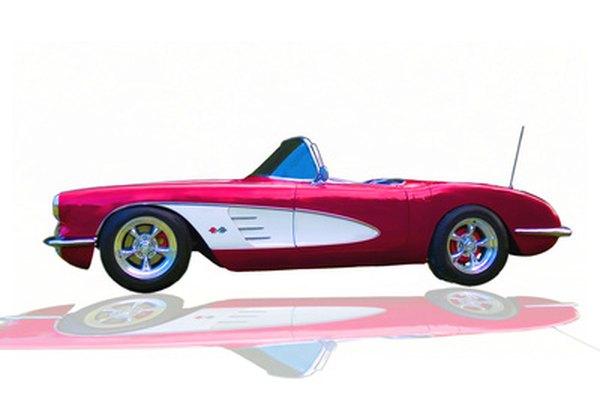 Seeing the U.S.A in a Chevrolet took on a new twist in 1957. Technical developments were taking place between General Motors and its Rochester Carburetor division. The result was a new mechanical fuel injection system. It was an optional feature on the Chevrolet Corvette. The name of this new marvel was Ramjet. The Ramjet units were the first fuel injection units for a Corvette.
Components of Ramjet
The Ramjet unit had three components: the manifold assembly, air meter and fuel meter. The fuel and air were introduced separately into the combustion chamber. Air was drawn into the manifold assembly and the fuel was injected into each intake port constantly, according to 57ClassicChevy.com.
Intake Vacuum Properties
Intake vacuum readings influenced the metering of the fuel. The intake manifold provided the distribution for rammed airflow to the cylinders. The regulated amount of fuel was introduced directly above the intake valve under high pressure on a continuous basis. The continuous fuel injection was used because of design simplicity and lower cost than a timed injection systems, according to Alan Colvin of "Corvette Magazine."
Fuel Meters
The fuel meter used the engine vacuum to control the amount of fuel going to the injectors, according to Alan Colvin of "Corvette Magazine." Dual way fuel meters (spiders) were used to deliver fuel to the injector nozzles on the earliest Ramjet applications.The dual way spiders had undergone three design changes, according to Colvin, but single right tube spiders were employed after February 1957. The fuel lines of the single tube spiders were attached by bolts and ferrules.
Advantages Over the Carburetor
The Ramjet fuel injection system made the 283 CID engine of the Corvette produce 283 hp. Richard Langworth and Chris Poole wrote in their book "Great Automobiles of the 50s" that the Ramjet reportedly produced 290 horsepower. According to the Corvette Story, Chevrolet was able to produce one horsepower per cubic inch of engine displacement. The fuel control properties of Ramjet were superior to the carburetor because it eliminated fuel starvation caused by sloshing in the fuel bowls in racing, according to Andy Boling of Corvette Fever.com. Faster acceleration, faster cold starts, and smoother engine warm-ups were also advantages of Ramjet, according to 57ClassicChevy.com.
Significance
General Motors Ramjet was the first fuel injection unit available for production automobiles. The fuel injection was the top engine option for 1957, according to Richard Langworth and Graham Robson in their book "The Complete Book of Collectible Cars-1930 to 1980." Fuel injection systems did not appear in cars, such as Jaguar and the like, until the mid 1970s, according to the Corvette Story. Mechanical fuel injection is used in heavy truck and bus diesel engines, but they introduce fuel into the combustion chamber at timed intervals.
References
More Articles
Photo Credits
photo_camera Classic American Sportscar image by kenmo from Fotolia.com