DIY Repair Delamination on a Camper
by Don Kress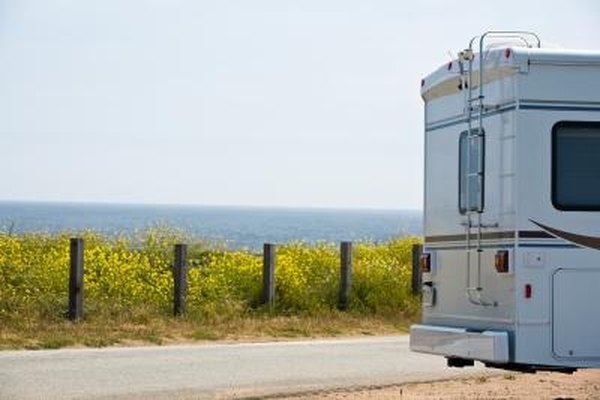 Camper trailers and RVs are built using a plywood and fiberglass laminate that is held together using a weather resistant glue. Over the course of time, this glue can release, causing the veneer to delaminate. When this happens, you'll have to repair the delamination or it will only get worse over time. On top of this, delamination can cause the plywood substrate of your camper to rot. If you are attempting to purchase a camper that you suspect may be delaminating, you should avoid doing so. Some repairs are far more extensive than can be accomplished by a novice.
Remove the trim of the camper around the site of the delamination using either a screwdriver or socket set. This will help you determine the source of the leak that caused the delamination.
Find the edges of the delamination by pressing against the fiberglass with your fingers. If you can press in on the panel slightly, then it is delaminating.
Cut around the edges of the delamination using the razor knife. Be careful to avoid making a messy cut, as this will make the repair unsightly. It is best to cut through the fiberglass by scoring the panel with the knife, then retracing the cut until the fiberglass can be peeled away.
Scrape away the old glue from the area where the delamination occured. There will be old glue which must be removed on both the plywood panel and the back of the fiberglass.
Apply new glue to the plywood of the camper, smoothing it over the entire area that you are repairing, including the lines where you cut the delamination away. In addition, apply an extra bead of glue near where the delamination began. This thicker bead of glue will help prevent future delamination.
Press the fiberglass back into the glue before it has dried. You will notice that a small amount of glue will bead up around the repair area where you cut the delaminated panel. Use your finger to smooth this down. Allow the glue to cure according to the manufacturer's recommendations.
Reinstall the camper's trim around the repaired panel to complete the repair operation.
Tips
check Areas of delamination that are larger than one square foot should be attended to by a professional camper repair facility to prevent future delamination.
check Apply a new decal over the repair area to help mask the delamination repair.
References
Photo Credits
photo_camera Jupiterimages/Photos.com/Getty Images