Class A vs. Class C Motorhomes
by Don Bolen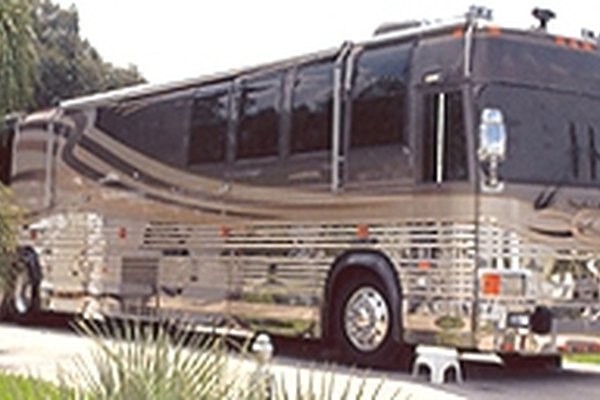 The differences between Class A and Class C motorhomes are significant. Class A motorhomes can comfortably accommodate two to four people while Class C motorhomes can easily accommodate up to six people. Class C motorhomes are sometimes known as "family motorhomes" because of their ability to provide sleeping accommodations for families of six.
Construction and Safety Considerations
Class A motorhomes are constructed on a heavy-duty frame supplied by several different manufacturers. Heavy-duty 18-wheel over-the-road trucks use a similar frame construction. The driver and passenger are located fully forward, just behind a flat windshield. In the event of an accident there is very little protection for the occupants. Class C motorhomes are based on a light-duty delivery-van chassis. The passenger compartment of a Class C motorhome has been crash tested by the manufacturer and is equipped with air bags.
Engine Position
Less expensive gasoline-powered Class A motorhomes have an engine in the front. High-end Class A motorhomes have a diesel engine mounted in the rear. The rear-mounted diesel engine is significantly quieter than the front-mounted gasoline engine. It also produces more engine torque and an increase in miles per gallon of fuel. Class C motorhomes have engines mounted in the front. The front-mounted engine produces a higher noise level and delivers a large quantity of engine heat into the passenger area.
Load-carrying Capabilities
The Class A motorhome has a stronger heavy-duty truck chassis and suspension with larger 22.5-inch wheels for increased load-carrying capacity. It also has numerous cargo storage areas located along both sides of the motorhome. The Class C motorhome uses a converted light-duty delivery van chassis and 16-inch wheels with limited carrying capacity. The Class C motorhome is easily overloaded beyond its weight carrying and braking capability.
Slide-outs
A slide-out adds significant interior room to a motorhome. Sometimes multiple slide-outs are used in the living and bedroom areas. A Class A motorhome can easily carry the additional weight of the multiple slide-outs. A Class C motorhome is limited in its weight-carrying capability and can easily be overloaded with additional slide-outs.
Sleeping Accommodations
Sleeping accommodations in a Class A motorhome are limited to three or at the most four persons. Two people can occupy the rear bedroom with an additional two on a foldout couch in the living area. A Class C motorhome can accommodate as many as six people. Two people can occupy the rear bedroom, two can sleep in the overhead compartment above driver's compartment and two can sleep on the converted dinette in the living area.
More Articles
Photo Credits
photo_camera Personal Photo