How to Choose a Jeep Wrangler
by Randal Thomas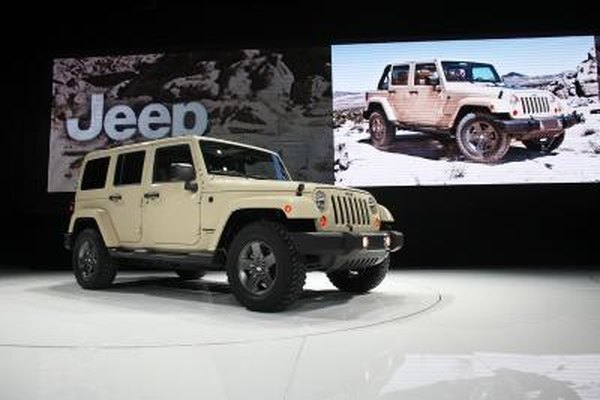 Jeep has a large selection of automobiles to choose from. The Wrangler represents fun and freedom, a Jeep that will get you where you want to go when other vehicles can't. If you purchase a Wrangler, you'll have to choose the one that fits you the best. For example, should you buy new or used? What options do you prefer? Follow these few guidelines to buy the Jeep Wrangler that meets your requirements.
1
Decide if you need all-wheel four-wheel drive or two-wheel drive. For instance, base models come in two-wheel drive, but most models come in all-wheel drive. Two-wheel drive can save you $1,000 to $2,500. Although four-wheel drive costs more, it can help you in snow and off-roading.
2
Decide if you want to buy new or used. For instance, new Jeep Wranglers benefit from a warranty, but a used one will not depreciate in price as much. Of course, you'll save money buying used; but if you buy used, make sure to familiarize yourself with the various recalls. The 2008 Wranglers saw recalls in brakes, the power train, fittings and various hoses. The 2007 Wranglers saw recalls in anti-lock brakes and hydraulics.
3
Compare prices and dealers: Prices for new Jeep Wranglers range from $21,000 to $32,000. Play dealers against one another until you get the best price: for instance, one dealer might quote a price of $18,000; but if you take this information to another dealer and ask them if they can beat that price, they just might beat it to get your business. Even if they beat the price by only $100, that's money in your pocket instead of theirs. Depending on condition, used prices range from $13,000 for a 2003 Jeep Wrangler to $24,000 for a 2008 Wrangler as of December 2009.
4
Check the engine. For used vehicles, the oil should appear clear and brown. Thick black oil indicates the oil hasn't been changed. Review the service records. All service records should accompany the vehicle. If the seller does not have service records, you're entitled to a slight price adjustment. Whether you purchase from a dealer or an individual, always get a Carfax report. Carfax reports provide detailed owner information and information on insurance claims, which will indicate repairs from auto accidents. (See Resources 2)
5
Check the axle housing. Jeeps are meant for off-road adventures, but such treks can damage the axle housing. When you take the Jeep in for an inspection, ask if the axle housing shows indication of undue stress.
6
Compare different models to determine what body features you definitely need and those you can do without. The Jeep Wrangler Unlimited has four doors. The X and the Sahara models come standard with a Dana 30 front axle and Dana 35 rear axle. The Rubicon model is ranked best in its class for off-roading.
More Articles
Photo Credits
photo_camera Spencer Platt/Getty Images News/Getty Images