How to Choose Good Auto Paint
by Naomi Bolton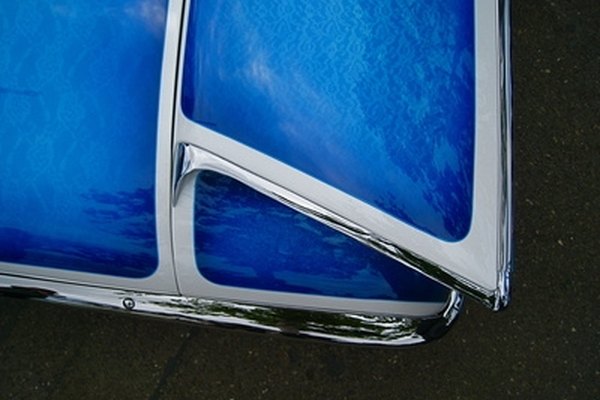 Choosing a good automotive paint for your car's spray-job is not a decision to take lightly. Car paints are expensive, and the paint job is the first impression that your car will make with others. You don't want to mess up a patch-up job by buying a color that is just one tint off the correct color, or combine paints that will peel and force you to re-do the whole job within a year's time.
Do some color research if you are planning to do a total re-spray. Page through magazines, browse car sales sites on the Internet and visit auto dealers for ideas.
Pick a color that is timeless and that suits your car's model. Ask your family which color they prefer, as they are the ones who will be driving with you.
Request a color sample if you are doing a patch-up job. Make sure that you get exactly the right color. If your car is a recent model, ask an auto dealer for the color code, or check car manufacturer and supplier websites for color codes.
Buy a coat of etching primer or epoxy primer if you are starting the job on bare metal, but never combine the two primers. Primer will add a layer of corrosion resistance on the metal and promote adhesion with the paint layers. Opt for etching primer if you are applying paint on a straight surface. Epoxy primer, on the other hand is an ideal choice if you need to do some additional filling.
Buy a sealer to finish the primer job. This will protect your paint against stone chipping and cracking, and act as an adhesive between the top coat and under coat.
Choose a paint type. Avoid lacquer paint, as it is less durable than other paints and illegal to use in most states due to its negative environmental impact. Opt for enamel paint if you are looking for an inexpensive, thick, durable paint. Urethane paint, however, is your most durable option. This paint provides excellent protection against ultraviolet (UV) rays, and comes in vibrant colors, unequaled by older-style paints, such as enamel and lacquer.
Decide between a single-stage and two-stage paint system. Single-stage paints contain gloss and UV protectants in the same material as the pigment, while with the two-stage system, pigmented base coats are covered with a clear or slightly tinted top-coat, giving the base its gloss and UV protection. Single-stage paint is easy to spray, and adds more brilliance to the color, since the pigments are closer to the surface. Opt for the two stage-system if you choose a paint with special effects such as metal flakes, candy, or pearlescent flakes. Ultraviolet protectants in the clear coat will keep effects from mottling or burning, and it is better to sand over the clear coat than directly on special-effects paint, which might cause the flakes to shift and cause weird effects.
Stick to one brand for your different paint layers. Different brands use different chemicals in their paints, which don't always react well when mixed with other brands. DuPont is a brand that is durable and easy to spray, and PPG is soft and flexible. House of Kolor stocks a range with impressive special effects, and is popular among custom body-painters.
Calculate exactly how much paint you will need for the job and buy just a bit more than needed. You don't want to run out of paint halfway through the job.
Photo Credits
photo_camera Car fin image by Dreadman from Fotolia.com