Checklist for a CDL Pre-Trip Inspection
by Sam Smith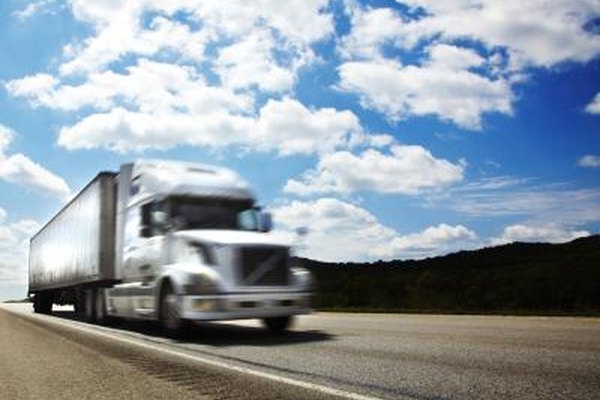 Before setting out on a job, commercial drivers must perform a comprehensive inspection of their vehicles. For truck drivers, it's the condition of their tractor and trailer. For bus drivers, it's the functionality of their people mover. In any case, it's called a "pre-trip inspection" and it is intended to increase safety for everyone on the road, including the driver and other motorists. Every state has similar requirements, with some differences. This is a summary of California's regulations.
Engine Compartment
Inspection of the vehicle's engine compartment calls for drivers to look for fluid leaks and check the condition of all hoses and belts. Then they must check fluid levels, including oil, coolant, transmission fluid, power steering fluid and windshield washer fluid. They must check engine belts for snugness and wear. These belts include the power steering, water pump, alternator and the air compressor. If any of these components are not belt driven, they must be checked for proper operation.
Cabin Inspection
Commercial drivers are required to complete a comprehensive check of the vehicle's interior. They must check for proper operation of the following: clutch and gearshift, oil pressure gauge, coolant temperature gauge, oil temperature gauge, all mirrors and the windshield, wipers and windshield washers, lights and indicators, and the steering wheel. Emergency equipment, including spare fuses, reflective triangles and fire extinguisher, must be present and working. A comprehensive brake check, including the parking brake, hydraulic brakes and air brakes, must be done -- this is perhaps the single most important safety check.
External Inspection
An external inspection is required for all buses, trucks, and semi-tractors. This includes a check that all lights and reflectors operate fully, and are functional and free of debris. Other externals, such as the fuel-tank cap, door latches, battery box, drive shaft and any hose couplings, can be inspected at this time.
Wheel Inspection
While outside the cabin, CDL drivers are also required to inspect all wheels and axles on their vehicle. This includes a check of all wheel rims, rim locks and slide rings, wheel fasteners and axle oil seals. Inspection of every tire is mandatory and requires a check of the following: tread depth, tire condition, tire inflation, tire size and tire type. Front tires for buses cannot be recapped, retreaded or re-grooved.
Photo Credits
photo_camera Thomas Northcut/Photodisc/Getty Images