How to Buy a Used Car With a Salvaged Title
by Scott Krohn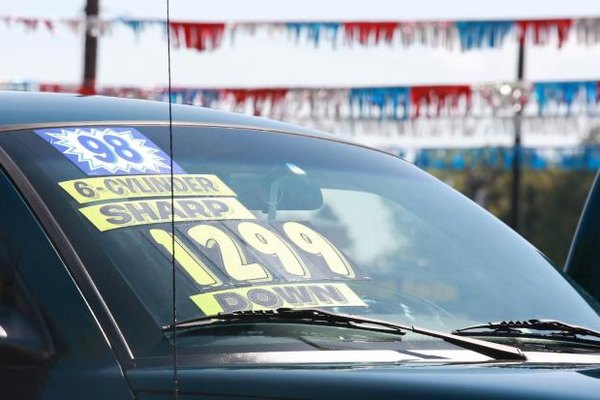 Buying a vehicle with a salvage title carries a variety of risks related to the extent and cause of the damage to the car, as well the costs involved in doing a rebuild. There are, however, branded vehicles that can be purchased and rebuilt to full health at prices substantially less than comparable cars on the road. The key to finding these vehicles is to gather and assess as much information as possible before making a purchase.
Check the History
The cause and extent of the damage that resulted in the assignment of a salvage title will give you an idea of what it will take to get the car operational, safe to drive, and back on the road after passing the inspection required by the state. For example, in many states stolen cars are assigned with a salvage title even if there is no apparent damage. Many still go through the auction process, but may not require any repairs. On the other hand, repairing extensive damage such as a bent frame may make a cost-effective repair impossible. Car title histories are available through CARFAX and AutoCheck.
Have a Professional Inspection
A professional inspection will reveal the repairs that need to be done for the title to be upgraded to "rebuilt," which makes the car street legal again. The upgrade to rebuilt status can be done only after the car passes an inspection conducted by a state authorized official. The preliminary inspection by a mechanic probably will cost $100 to $200, but can help you to steer clear of the purchase of a salvage vehicle with hidden problems that become expensive repairs later.
Get an Estimate for the Cost of Repairs
After the inspection, you should have an itemized list of repairs that will be necessary to rebuild the car and get it back on the road. Get two estimates of the total cost for repairing the vehicle; one using OEM replacement parts and the other using rebuilt or scrap yard replacement parts. OEM parts are factory-built for the car and usually last longer than used or rebuilt parts, but will be more expensive. If you decide later to go ahead with the purchase and fix the vehicle, keep the receipts and take before and after pictures of the repairs so you can present them at the state inspection.
Check the Comps
One way to determine whether buying a specific salvage vehicle is going to be a money-saving move is to research the prices on two categories of comparable cars; those with rebuilt titles as well as vehicles with clean titles. Comparing the prices of vehicles in these categories versus the amount of money you'll be spending to buy and repair a prospective salvage title car will present a clear picture of whether you are getting a good deal or should keep looking.
More Articles
Photo Credits
photo_camera Sonya Etchison/Hemera/Getty Images