Airstream Remodeling Tips
by Brendan Pelsue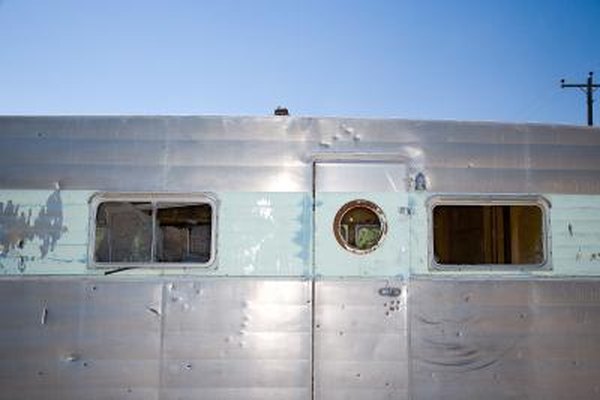 Airstream trailers are famous the world over for their futuristic shape and shiny aluminum exterior. Unlike other trailers, the value of Airstreams increases with age, and many owners spend years renovating their vintage models. Airstream renovation is hard work, so owners should take the time to research the remodeling ideas that will make them happy with their final product.
Insulation
Airstreams can heat up quickly if there is no insulation between the interior and exterior walls. Many renovators recommend using shiny foil insulation, which can be attached using commercially available metal glue. For best results, leave airspace between the insulation and the surrounding walls. To cut holes in the foil for windows, doorways, or other openings, press the insulation against the frame of the door or window. The frame will leave an indentation in the foil than can then be easily traced with a utility knife.
Interior Decoration
Older Airstream interiors are rather spare. Some owners like this look and try to restore their trailer's original features, while others install flat screen TVs and stainless steel appliances for a feeling of modern luxury. Both approaches are legitimate, but renovators should remember that features like dishwashers and granite counter tops will significantly increase the weight of their Airstream, making it more difficult to travel over steep hills and bumpy roads. The best renovations are those that take into account owners' travel plans for their trailers.
Exterior Polish
A shiny exterior polish can be the most important factor in determining the value of a renovated Airstream––and one of the most difficult parts of the renovation process, with professional quality jobs requiring an average 140 hours of work. Begin polishing only after all other aspects of the Airstream renovation are complete, since Airstreams' aluminum-copper siding scratches easily. Replace polishing rags frequently and avoid polishing in a circular motion, as this may leave scratch marks on the surface of the Airstream. Pre-1968 Airstreams are coated with a layer of pure aluminum that must be treated with special care. If parts of this soft coating are removed by over-zealous polishing, the surface of the Airstream will have a blotchy, uneven look. Renovators who have not polished aluminum before may wish to practice on an extra piece before beginning work on their Airstream.
References
More Articles
Photo Credits
photo_camera Jupiterimages/Photos.com/Getty Images