Advice on Fixing Up a Jeep Wrangler
by Derek Odom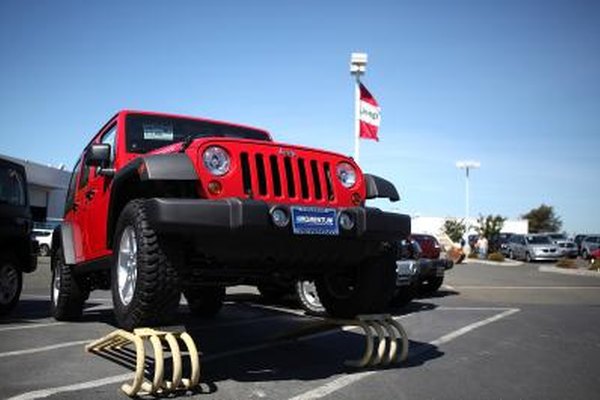 Fixing up a Jeep Wrangler can sure be a lot of fun, but where do you start? What modifications should you make? What is popular and affordable? You might be surprised at the amount of simple things you can do to your Wrangler to make it really stand out and look great. If performance on the trail is what you have in mind, there are quite a few things in that area that will enhance off-road prowess, as well.
Tires
Even if you do not plan on ever driving your Jeep Wrangler into a mud pit or through a mountain trail, adding a good all-terrain tire with aggressive tread is a smart upgrade. Your Jeep Wrangler will handle better in adverse weather, and the tread patterns of the popular mud and snow rated tires give the Jeep a unique look. Of course, if a suspension lift is in the plans, bigger tires are always an option and can make the Jeep more capable.
Suspension
If you plan on driving the Jeep off-road, a suspension lift can really help it out. The most popular lift sizes are three to six inches in height, which will allow tire sizes ranging from thirty to thirty-three inches. An after market suspension allows the Wrangler to articulate better over trail obstacles, and also gives it ground clearance so that it doesn't get hung up on things as easy. Suspension lift kits are available for all years and Wrangler styles, so it is just a matter of deciding which package will work best for your needs.
Engine
One very important step to fixing up your Wrangler is to make sure it is running right. Giving the Jeep a good tune-up that includes a new set of spark plugs and wires, a distributor cap and an air filter can really make a difference. Also, changing the oil and filter can extend the life of the engine and improve how it runs. Inspect the fuel filter, radiator, and all the belts and hoses to ensure that the Wrangler is safe to drive.
Interior
Simply adding good quality seat covers, floor mats, and a steering wheel cover can really make an impact on the Jeep's interior. If the Jeep is driven off-road, get deep, ridged floor mats that can contain a good amount of the mud, leaves and rocks that tend to find their way inside. Then when you get home, simply take out the mats and hose them off.
Photo Credits
photo_camera Justin Sullivan/Getty Images News/Getty Images