The Best Tires for RVs
by Chris Stevenson
Updated November 07, 2017
Recreational vehicles (RVs) come in a variety of shapes and sizes, made by scores of manufacturers. Tire types for specific (seasonal) or general (all season) driving purposes are among the most important aspects of RV design. Finding the tires best suited for your RV can be one of the most important decisions that follows the purchase of the vehicle. Lives literally ride on the rubber underneath vehicles, with loaded weights that approach or stretch maximum specification loads.
Goodyear
"Goodyear RV tires are some of the best models available. The G670 RV tire is specially designed for class 'A' motor homes that can be fitted in any position," according to Inside Your RV website. The tread casing has exceptional durability, lending itself to extended fuel efficiency that causes less rubber-to-road surface friction and drag. A system of circumferential grooves allows for superior wet traction. Extra sipes and tread notches enhance the traction capabilities, and the improved high-tech interior belt design aids for a smooth and comfortable ride, says Inside Your RV.
Michelin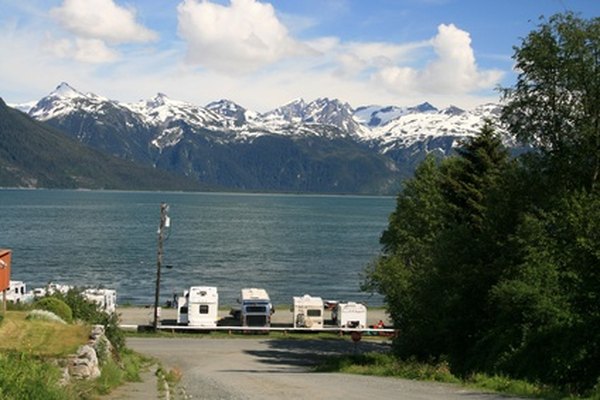 Inside Your RV says Michelin has " carved a niche" in the best RV tires catergory. Michelin designed and manufactured them with superior handling and riding comfort in mind, says Inside Your RV. It notes Michelin added a reinforced steep bead for added sidewall protection against punctures and damage. This allows for the casing to accept retreads. Special attention has been given to rib tread design that provides even tread wear. The tread pattern features lessens rolling resistance which provides better gas mileage.
BFGoodrich
The BF Goodrich model tire, most popular with the small RV crowd, has a dual compound tread for increased grip and long-lasting tread wear. The tread design has noise suppressing qualities and the feel of the steering wheel has a "light" touch, denoting less tire-to-road resistance. A stabilized outside riding shoulder provides exceptional dry traction and control, while providing good wet and snow traction with full tread depth features. Two full-width steel belts make it sturdy for high speed and stable handling. Sideways flex allows for good cornering characteristics. One consumer reports 94,000 miles driven on his 2003 Ford F150 and plenty of tread left on his P275/60/17 tires.
Dunlop
The Dunlop Radial Rover has been awarded the Severe Service Emblem which means that it qualifies for use in severe winter conditions. Any tire that bears this symbol performs much better than its competitors (tires marked with only an M+S rating) in slush, ice or deep snow conditions. Equipped with a four-rib tread design, the Dunlop Rover has noteworthy on-and off-road capability. Deep tread grooves channel water away, resisting planing and skidding. The sidewall features have been stylishly enhanced with raised white lettering and a high serrated band.
References
Writer Bio
Chris Stevenson has been writing since 1988. His automotive vocation has spanned more than 35 years and he authored the auto repair manual "Auto Repair Shams and Scams" in 1990. Stevenson holds a P.D.S Toyota certificate, ASE brake certification, Clean Air Act certification and a California smog license.
More Articles