How to Stop Trailer Sway When Towing
by Thomas West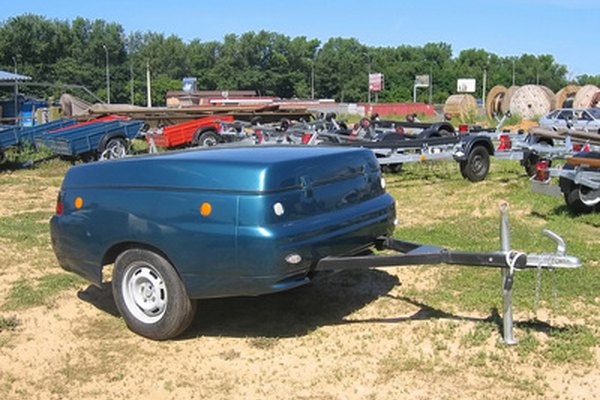 Trailers come in many varieties, including open utility trailers designed for general hauling, enclosed cargo trailers to keep your belongings out of the elements, car trailers for hauling vehicles and camping trailers. Trailer sway, or yaw, is the unwanted back and forth motion a trailer makes while being towed. If trailer sway is severe, the back and forth motion can transfer to the towed vehicle and cause an accident. Trailer sway can be eliminated or reduced by making sure your tow vehicle and trailer are set up properly.
1
Make sure 10 to 12 percent of the trailer's weight is on the tongue, which is at the front of the trailer where it hitches to your tow vehicle. Load your trailer and take it to a commercial scale (most truck stops have scales available) and have it weighed. Explain to the scale attendant that you also want to split-weigh your trailer to find out what the tongue weight is. Rearrange the load to get the correct tongue weight and remove some items if your trailer is overloaded. Reweigh the trailer if necessary.
2
Do not overload your tow vehicle. Check your owner's manual for the load capacity of your vehicle. Keep in mind that your vehicle's load will include the weight of the trailer tongue, any cargo you are carrying and the weight of all passengers. Make sure your are not exceeding your vehicle's weight capacity.
3
Make sure the tires of your tow vehicle and your trailer have the correct air pressure. Find out what the correct tire pressure should be by consulting the owner's manual for your tow vehicle and your trailer. Check the pressure with an air pressure gauge. Check tire pressure when the tires are cold. Let the tires cool down for several hours if the vehicle has been driven before checking the air pressure.
4
Do not tow a trailer in extremely windy conditions, as the trailer can be blown over, taking your tow vehicle with it. Check weather conditions before leaving and delay your trip if severe weather is predicted.
5
Have your trailer dealer install a friction sway control device on your trailer. Take your trailer for a test drive. Stop and rotate the adjustment handle in a clockwise direction 1/4 of a turn to add more friction if you are still experiencing trailer sway. Continue this procedure until the trailer is stable. Note that large travel trailers (over 5000 pounds) may need a sway control device installed on each side of the trailer hitch.
Warning
close A truck passing you on the highway while you are towing can be a nerve-racking experience. Your trailer will feel like it is being "sucked" into the passing truck. This can be enough to start a severe swaying motion of your trailer if it is not loaded properly and you do not have a sway control device installed.
References
More Articles
Photo Credits
photo_camera blue trailer image by Diana Mastepanova from Fotolia.com