What Are Pop-Up Camper Tops Made Of?
by Don Kress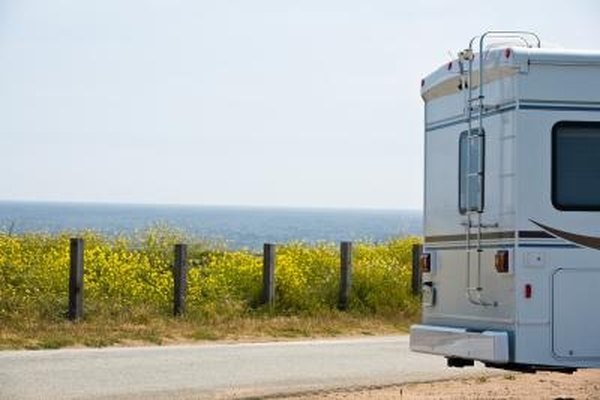 Pop-up camper tops are made with a variety of materials, some being more widely used than others. Many old campers utilized aluminum for their roof construction due to the light weight of the material and its ability to withstand corrosion. Newer camper tops may be constructed of aluminum also, but they are predominantly constructed of fiberglass or plastic panels. Some pop-up campers today do away with hard surfaces altogether, opting instead for canvas tops.
Fiberglass
The overwhelming majority of pop-up camper tops available today are constructed of fiberglass. This allows the camper to be folded up under a hard shell that is protected from the elements. In addition to this, fiberglass is an inexpensive material when compared with aluminum, though it has the same weight benefits that aluminum has. Caring for a fiberglass pop-up camper top is the same as caring for the finish on your car. Occasional cleaning and yearly waxing will keep it looking brand new.
Aluminum
Pop-up camper tops that are formed from aluminum are more rarely seen than fiberglass camper tops, but there are still companies that produce these lightweight travel trailers. Aluminum pop-up campers, unlike fiberglass campers, may be either painted or unpainted. All aluminum campers are produced by forming a sheet of aluminum over a plywood panel that is cut to size. The edges are then sealed with a silicone sealant to prevent water from entering the camper. Cleaning aluminum pop-up camper tops is the same as cleaning fiberglass tops because companies that produce these tops coat the aluminum in a special protectant to help further eliminate aluminum's ability to discolor or tarnish.
Canvas
Pop-up campers use canvas tops in two different ways. On many pop-ups, the canvas is used for the wings of the camper that fold out and provide sleeping accommodations. On other campers, the canvas top makes up the entire top side of the camper. While these have been for the most part replaced by fiberglass tops on new campers, they are relatively common on older pop-up camper models, and are still used in a few camper models, particularly in Europe. Pop-up campers with exclusively canvas tops are much lighter than even fiberglass and aluminum tops, meaning that a much smaller vehicle can safely transport the camper from place to place.
Plastic
Similar in many respects to fiberglass but without the glass strand reinforcement, plastic tops on pop-up campers are inexpensive and sturdy. They are laid over a plywood base that provides the necessary structural stiffness needed to keep the camper rigid when it is set up. One drawback to using plastic in the construction of pop-up campers is its tendency toward delamination. If you purchase a secondhand camper that has the appearance of bubbles on the top or sides, then the camper is suffering from delamination, and it may have serious moisture damage underneath the plastic. Otherwise, plastic tops are easily maintained; regular cleaning can keep them looking like new year after year.
Photo Credits
photo_camera Jupiterimages/Photos.com/Getty Images