How to Paint a Honda Goldwing
by Elton Dunn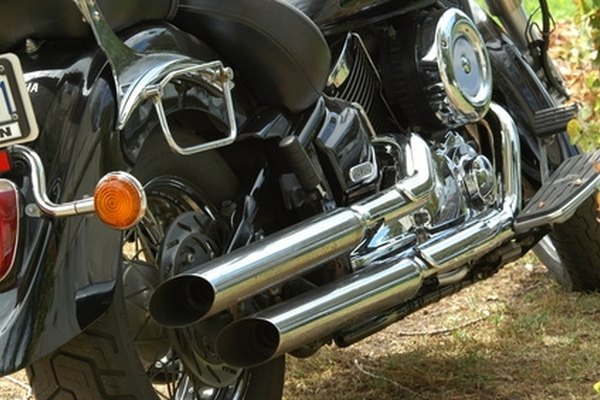 Honda Goldwings have long been the motorcycle for pleasure cruisers, providing comfort and performance on long trips. Whether your Goldwing is old or new, you want to take pride in your bike while you're knocking off highway miles. Painting your Honda Goldwing is the best way to get a used bike looking sharp. To get the best paint job, strip off the old paint, apply a new paint and then buff and polish the paint's finish until your Goldwing gleams.
Sand away the current paint job on your Honda Goldwing using an abrasive 600-grit dry sandpaper. If you're just retouching paint on part of the motorcycle, skip this step.
Wash the motorcycle with warm water and car soap when you've finished. You want to remove any sandpaper particles, dust or other debris. Any substance on your motorcycle will become trapped in the paint finish if it isn't removed at this point. When you have finished, dry your motorcycle with clean cotton cloths.
Tape over any parts of the Goldwing you don't want to paint, such as tailpipes, seats or chrome parts.
Apply lacquer or enamel paint using an aerosol can or a spray gun. Work the paint over the car in an even, thin layer; if the paint puddles, you're applying too much. Wait for the coat of paint to dry, typically 30 to 45 minutes, then apply two more coats in the same manner. Lacquer is easier for beginners to work with than enamel paint.
Allow the base coat to dry for at least two hours. Use 600-grit dry sandpaper to sand away any drips, runs or blotches in your enamel or lacquer paint.
Apply one to three more coats of color in the same manner. The coats provide color coverage, so when you are satisfied with the hue of your Goldwing, you can stop applying color paint.
Spray clearcoat on your motorcycle once the colored paint has dried. Apply four to five coats of clearcoat, waiting at least 30 minutes between each coat. Allow the clearcoat to dry overnight before proceeding.
Sand imperfections in the clearcoat with 600-grit dry sandpaper just as you did with the color coat. Wash the motorcycle afterward.
Spray your motorcycle with two more layers of clearcoat. Allow the clearcoat to dry for at least two days before continuing.
Place 1500-grit wet sandpaper in a bucket of water. Remove the sandpaper and run it along your freshly painted Goldwing in back and forth strokes. This will remove the rough elements in your paint job and clean up any blotches. Work over the entire painted area, re-wetting the sandpaper to remove debris and keep it wet.
Repeat the wet sanding process with a finer 2000-grit wet sandpaper if the finish still appears blotchy. When you're done wet sanding, your motorcycle should look dull. Rinse it with water, then dry it before continuing.
Squirt cutting paste onto the surface of your motorcycle, then work the paste in with a clean rag. Cutting paste will strip a fine layer of paint away, helping restore the shine to your bike.
Wipe away the cutting paste with a clean rag until all traces are gone. Rinse your motorcycle again with water once you've rubbed away the cutting paste.
Apply a polishing compound in the same manner as you applied the cutting paste. This will restore the rest of the shine to your motorcycle. Once you have worked the polishing compound over your bike, wipe it away. Each wipe will make your bike shinier, so continue wiping until you are satisfied with your bike's appearance.
Tips
check Always wear a protective mask when working with paint.
check Wait one month to wax your motorcycle so that the paint can harden and cure.
References
More Articles
Photo Credits
photo_camera motorcycle lines image by BorisNoWorries from Fotolia.com