Jeep Wrangler Rubicon: 2004 Vs. 2005
by Michael G. Sanchez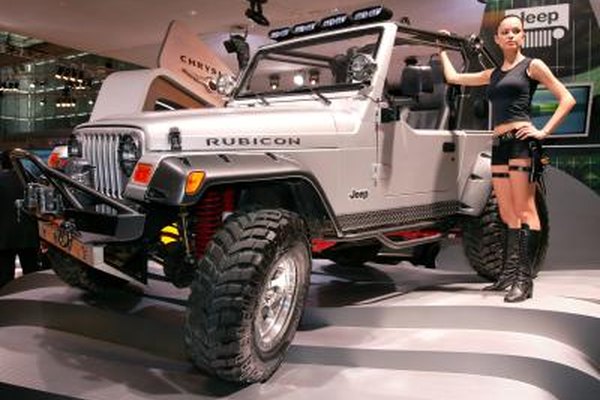 The Jeep Wrangler is an American automotive icon. With roots that stretch all the way back to World War II, the small, rugged SUV has symbolized independence and adventure for generations. Long before the popularity of modern sport utility vehicles, the iconic Jeep was conquering trails and braving all sorts of difficult terrain.
Introduced for the 2003 model year, the Wrangler Rubicon was the most hardcore modern version of the SUV yet. Inspired by the beefed-up Jeeps created by aftermarket tuners and the enthusiast community, the Rubicon was tougher, stronger and more capable than a standard Wrangler.
For 2005, a Rubicon version of the extended-length Wrangler Unlimited was added to the lineup. Regular-size Wrangler Rubicons were virtually identical in 2004 and 2005.
Serious Off-Road Potential
Along with the classic Land Rover, Toyota's Land Cruiser and a few other select models, the Wrangler has long been a favorite of dedicated off-road enthusiasts. While the Jeep makes a great platform for this sort of specialized, challenging driving, a few key upgrades are generally considered necessary before hitting the trails. With the Rubicon, Jeep's engineers wanted to see if they could make a Wrangler that was 100 percent trail-ready straight from the factory. The Rubicon included all the upgrades owners typically make to their Jeeps before taking them off-road. The Rubicon featured burly Dana 44 axles front and rear, a heavy-duty transfer case with a 4:1 low-gear ratio for snails-pace rock-crawling and locking differentials at both ends supplied by the Tochigi Fuji Sanjyo corporation. The package also included rock rails and skid plates to protect the Jeep's underside, oversized steel bumpers, disc brakes at all four corners -- rear drums were still employed on standard Wranglers -- knobby 31-inch Goodyear MT/R tires, and an optional electronic sway-bar disconnect system, which disconnected the sway bars at rock-crawler speeds to dramatically improve chassis articulation. Together, these components transformed the already capable Jeep into what was, with little doubt, one of the very best off-road vehicles available at any price.
Powertrain
The Wrangler Rubicon was powered by the same 4.0-liter inline-six in both 2004 and 2005. A sturdy, dependable overhead-valve unit with two-valves-per-cylinder, it produced 190 horsepower at 4,600 rpm and 235 foot-pounds of torque at 3,200 rpm. In 2004, buyers could choose between a five-speed manual transmission and a four-speed automatic. In 2005, a new six-speed manual replaced the aging five-speed, while the same four-speed automatic soldiered on. Like all Wranglers, the Rubicon came standard with part-time four-wheel drive.
Dimensions
The Wrangler's compact shape, narrow track and high ground clearance helped it excel on uneven terrain. The SUV measured 155.4 inches long, 66.7 inches wide and 70.9 inches high. It had a 93.4-inch wheelbase, which measured 58.5 inches at both the front and rear track. New for 2005, the Rubicon version of the larger, four-door Wrangler Unlimited allowed drivers to bring more friends and gear along for the adventure. The plus-size Rubicon was 167 inches long, 66.7 inches wide and 70.9 inches tall, with a 103.4-inch wheelbase.
Consumer Data
Thanks in significant part to its heavy, truck-style chassis and angular, barn-door-esque exterior, the Wrangler Rubicon required frequent gas stops. The 2004 model was EPA-rated at 14 mpg in the city and 18 mpg on the highway with the manual transmission and 14-19 with the automatic. In 2005, the manual-equipped two-door Jeep received a 13-17 rating while the automatic version was rated at 13-16. The 2005 four-door Wrangler Unlimited received the same ratings as its smaller counterpart. In 2004, the Wrangler Rubicon had a starting price of $25,450. A year later, the cost of entry had risen to $27,465 while the newly-introduced Unlimited Rubicon started at $28,465. According to Kelley Blue Book, as of 2014, a used 2004 model in good condition is worth between $9,965 and $10,665. A slightly-newer 2005 model should set you back $11,765 to $12,615. A nicely-maintained 2005 Unlimited is worth between $11,715 and $12,515.
Photo Credits
photo_camera Getty Images/Getty Images News/Getty Images