Dump Truck Types
by Natasha Gilani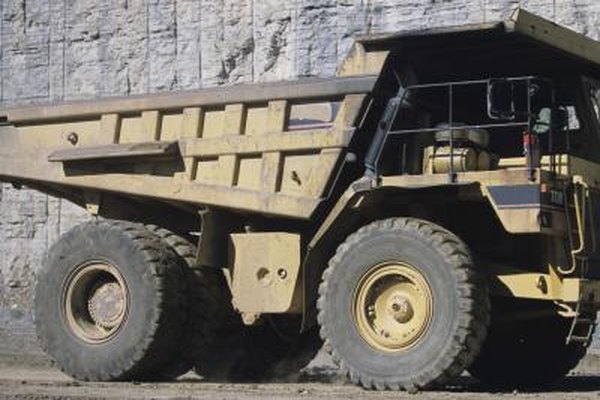 A dump truck, also called a dumper truck or a production truck, is a vehicle designed to transport materials to and from a construction site. Dump trucks use a hydraulically-operated ram mounted at their back. The ram lifts contents from the truck to be deposited at the site of construction.
Standard Dump Truck
A standard dump truck features a truck chassis mounted on a dump body. The body is raised and lowered with a hydraulically-powered ram lift that is mounted between the body and the driving cab. A standard dump truck has one front wheel axle and one or more axles at the rear, mounted with dual wheels on both sides. Typical versions of the standard dump truck include the six-wheeler and the 10-wheeler dump truck.
Transfer Dump Truck
A transfer dump truck is a standard truck with an attached trailer. The trailer is loaded with aggregates (dirt, gravel, asphalt, sand or any other required construction material). The trailer is equipped with another container, called the B box, which is powered hydraulically, pneumatically or electrically. It rides from the frame of the trailer to the dump box of the main truck, called the A box. This allows the main truck to carry additional material and still maintain effective maneuverability. A variant of the transfer dump truck is the triple transfer train, which is comprised of two additional boxes trailing behind the main truck. The boxes, B and C, enable the truck to carry more load than possible with the standard A/B transfer dump truck.
Superdump Truck
A dump truck fitted with a load bearing, trailing axle that can lift up to 13,000 lbs. The axle trails approximately four meters behind the main truck body. On average, a superdrump truck can carry 26 tons of loads per trip. A trailing axle uses its two hydraulic arms to help clear the truck body off its load. A superdump truck exceeds the investment, productivity and load carried by a standard dump truck.
Site Dump Truck
A regular site dump truck is a 2-axle trailer being pulled by a tractor. The trailer dumps material either to its left or right with the use of hydraulic rams. A site dump truck provides quick offloading of material. Side dump trucks offer more resistance to tipping over than other types of dump truck types.
References
More Articles
Photo Credits
photo_camera Tom Brakefield/Stockbyte/Getty Images