How to Downshift in Semis
by Deborah McDonald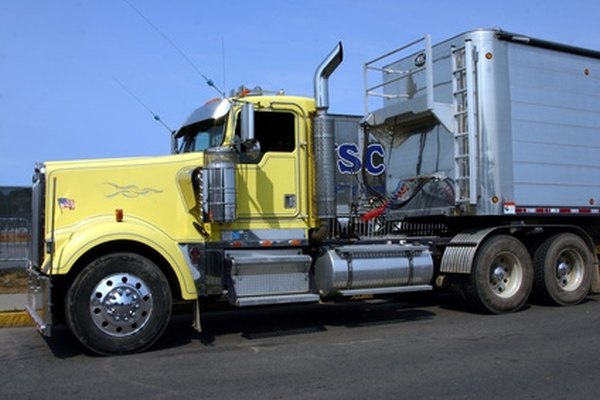 In any manual transmission vehicle, downshifting is the hardest task to master. While this is true in a standard sized car or a motorcycle, it's even more true when it comes to a semi truck. There's no substitute for practice and experience. You are going to grind gears and make mistakes at first. However, once you've picked up some hours behind the wheel, downshifting will become second nature, something you don't even think about anymore.
Ease up on the accelerator until your foot leaves the pedal entirely.
Take ahold of the gear shift and switch it down to a lower gear. Use your best judgement and listen to the engine. If it sounds like it's losing power, it's time to go down to the next gear.
Flip the High/Low selector switch down once you've reached sixth gear. The switch should be on the front of the gear shift, and highly visible.
Push the gear shift to fifth gear.
Continue to downshift by moving your gear shift to the next lower gear as the truck slows.
Shift into first gear and hold down both the clutch and the brake as the truck comes to a stop.
Tip
check Unlike in a car or motorcycle, the clutch is only needed when starting or stopping the semi.
Warnings
close It's best to have an experienced, licensed commercial driver present when you're learning how to drive your truck.
close Individual models of trucks may have variations in terms of where things are placed. Always ensure you've inspected the gear shift and any other controls, and have verified where everything is.
References
More Articles
Photo Credits
photo_camera Semi image by Andrew Breeden from Fotolia.com