How to Do Automotive Pinstriping
by Caroline Fritz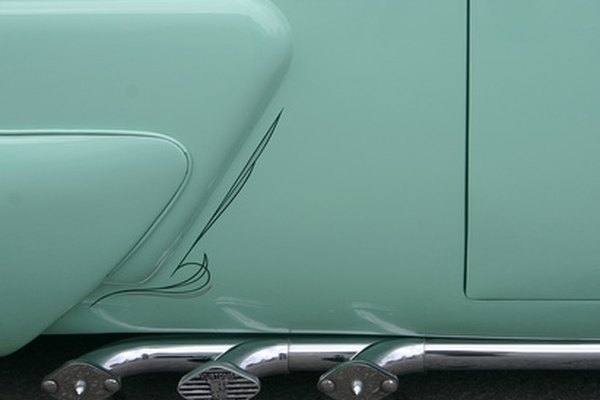 Pinstriping can add aesthetic value and character to any automotive surface. Add single, double or even triple stripes to both sides of a car. Add a decorative pinstripe to the hood or trunk, or add pinstripes to the roof of the car. Pinstriping can be applied over an existing stripe, or a stripe can be added to the surface paint. Pinstriping kits include either vinyl tape or paint and brushes.
Adhesive-Backed Pinstriping
Clean the surface area to be pinstriped. Remove vinyl pinstriping by lifting an edge and peeling it off or sliding a razor blade down the length of the stripe. Apply heat from a blow dryer to the stripe to make it easier to remove. Painted stripe removal requires major body work including sanding off the stripe, repainting, and restriping the car's surface. Cover an existing painted stripe with adhesive pinstriping or paint instead.
Choose the location of the stripe on the car. To determine the position, use the location of the old pinstripe, if applicable. You can place pinstripes wherever you like on the car; however, the most common position is one inch below the top of the fenders, following the body line on the side of the car.
Peel away the backing on the strip enough to affix the end of the stripe on side of the car near either the hood or trunk.
Hold the pinstripe tightly above the surface to be pinstriped. Examine the position of the pinstripe to ensure it is straight before peeling away the backing and pressing it onto the car. Work slowly, one body panel at a time.
Run a finger down the length of the pinstripe after it is affixed to the car, pressing firmly.
Cut the pinstripe at the gaps in the body panels, such as the doors, with a razor blade.
Remove the clear film from the top of the pinstripe.
Painted Pinstriping
Determine the position of the pinstripe on the car. Use the existing pinstripe as a guide, if applicable.
Clean the area to be striped with a non-silicone cleaning solution and a towel. Dry thoroughly.
Affix the striping tape, which will be used as a guide, along the length of the body of the car in the desired position.
Affix striping tape above or below the first striping tape line to the desired width. Repeat for added stripes.
Paint the space between the striping tape lines using a pinstriping brush and automotive paint. Make sure the paint coverage is complete. Remove the striping tape when the paint is dry.
Tips
check When striping over an existing pinstripe, be sure to match the size of the existing stripe to ensure complete coverage.
check The ends of the pinstripe can be tapered if there are two or more pinstripes by cutting into the edge of the pinstriping and tapering it to a point.
More Articles
Photo Credits
photo_camera Car Door image by rikkidegraz from Fotolia.com