Chevy Manual Transmission Identification
by Rob Wagner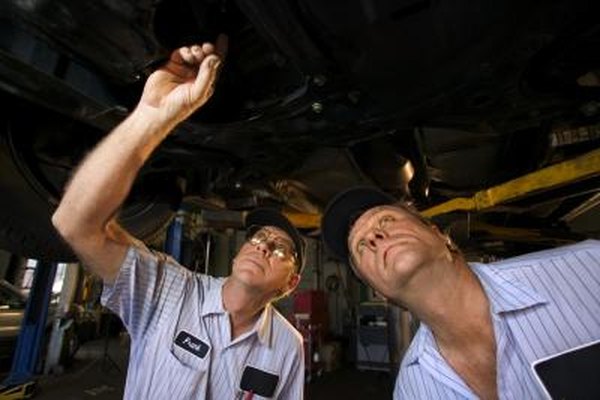 Chevrolet cars and trucks are equipped with three common manual transmission choices: The Tremec T-56 six-speed manual, the TR-6060, which is a derivative of the T-56, and the ZF Friedrichshafen ZF S6-650 six-speed.
T-56
Chevy equipped its 1997 to 2007 Corvettes and 1993 to 2002 Camaros with the T-56 six-speed. The aluminum-cased T-56 weighed between 115 lbs. and 129 lbs. Its maximum torque was 450 foot-pounds. There were two gear ratios. Depending on the vehicle, one version had a 2.97-to-1 first gear, 2.07-to-1 second, 1.43-to-1 third, 1.00-to-1 four, 0.62-to-1 fifth and 3.28-to-1 sixth. The other version was 2.66-to-1, 1.78-to-1, 1.30-to-1, 1.00-to-1, 0.74-to-1, 0.50-to-1 and 2.90-to-1.
TR-6060
The 2008 to 2011 Corvettes and the 2010 and 2011 Camaro Super Sport received the close-ratio TR-6060 six-speed manual. Its gear ratios are 3.01-to-1, 2.07-to-1, 1.43-to-1, 1.00-to-1, 0.84-to-1 and 0.57-to-1. Its primary features are the two-piece gears and machined clutch gear teeth for a smoother shift from gear to gear.
ZF S6-650
ZF Friedrichshafen's ZF S6-650 saw service in 1989 to 1996 Corvettes and 2001 to 2006 Silverado 2500HD pickups. Its top feature is the small gear steps in the direct 1.00-to-1 gear ratio for quick gear changing into fifth and from fifth to sixth. The sixth gear reduces engine speed and high driving speeds. Its gear ratios are 5.79-to-1, 3.31-to-1, 2.10-to-1, 1.31-to-1, 1.00-to-1 and 0.72-to-1.
References
Photo Credits
photo_camera Thinkstock/Comstock/Getty Images