How to Change the Blades on a Woods Bush Hog
by Don Davis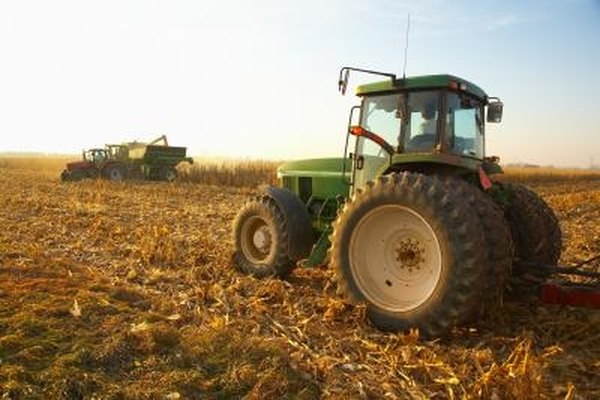 Woods and Bush Hog are separate companies that make farm implements and tractor attachments, including brush mowers that are designed to be towed behind tractors. Woods' headquarters is in Oregon, Illinois. Bush Hog is located in Selma, Alabama. Changing blades on one of these mowers is both straightforward and difficult. Removing and reinstalling the blade bolt nut stumps some owners. This might help. Use a long wrench handle. Remember that torque is always expressed in foot pounds. So, an easy 45 pound pull on a 10 foot handle equals 450 foot pounds. These instructions are specific to the Bush Hog 280 Series. Some blade bolt nuts may be as small as 1 5/16 inch.
Raise the Bush Hog cutter and securely lock it in position with wood blocks.
Remove the nuts from the blade bolts, using a 1 11/16 inch socket through the access hole in the deck. Use a socket adapter if necessary, a socket extension, a breaker bar and a steel pipe extension. Slip the steel pipe extension over the breaker bar to gain leverage. If you need to, heat the nut with a propane torch to loosen it.
Inspect the blade bolt shoulder for wear. Replace the blade bolt shoulder if necessary.
Assemble new blades to the blade holder, using blade bolts, nuts and lock washers.
Calculate the torque at the blade bolt nut by first measuring the distance from the torque wrench head to the handle with a steel tape. Slip a steel pipe extension of a known length over the torque wrench handle and calculate the torque using a longer handle. For example, tripling the length of the wrench triples the torque in foot pounds.
Tighten the nuts to 450 foot pounds of torque using a 1 11/16 inch socket, a socket extension, a 1/2 inch to 3/4 inch socket adapter and a steel pipe extension. Strike the blade bolt heads with a maul or a similar heavy hammer.
Retighten the blade bolts to 450 foot pounds of torque.
Spin the blades to ensure that they swing freely throughout an entire rotation. If the blades do not swing freely, remove them, locate the problem and repair.
More Articles
Photo Credits
Jupiterimages/Photos.com/Getty Images