How to Build a 400 Chevy Race Engine
by Richard Rowe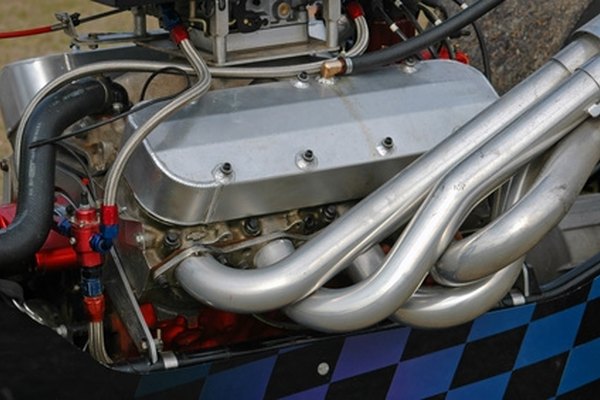 Chevrolet's 400 may have been the largest displacement small block GM ever produced, but it was never intended for the greatness it would one day see. A product of the dismal 1970s, the 400's increased displacement only happened because GM couldn't find a way to get its 350 to make the torque that truck buyers desired while meeting emissions standards. Decades later, this most massive of mice is regarded as one of the best performance platforms out there-provided that you can find one.
Start with an aftermarket iron engine block from Motown, World Products, Merlin or GM's "Bowtie" tuning division. A stock two-bolt main cap 400 block wouldn't stand a chance of handling the kind of power this combination is capable of.
Install a forged 43040 chrome-moly crankshaft with a 3.75 inch stroke, 2.448 inch mains and 2.10 inch rod journals. Lunati, Motown, Eagle and Scat make such units. Utilize 6.00 inch long, forged, I-beam connecting rods rated at least 950 horsepower; this combination will exceed that by quite a bit, but the factory horsepower rating assumes you'll be using high-rpm to make power. The turbochargers used in this application are much easier on rods than high rpm. Install a set of 2618 forged aluminum, turbo-specific pistons with a 4.155 bore size and a 28cc dish.
Install a hydraulic roller camshaft with 236 degrees of duration at 0.050 lift on the intake and exhaust and 0.60 inches of total lift. Link the crankshaft to the cam with a gear-drive instead of a timing chain.
Install a set of race-spec aluminum heads flowing at least 113 cfm and 90 cfm on the intake and exhaust (respectively) at 0.200 inches of lift, and 284 cfm and 204 cfm on the intake and exhaust (respectively) at 0.650 inch lift. The heads should have 67cc combustion chambers to yield a compression ratio of about 9:1 with a 4.155x0.043 copper head gasket. Brodix, World Products and Dart all make such heads. Use Inconel exhaust valves to handle the heat.
Bolt on a sheetmetal intake designed to work with multi-point fuel injection. Then utilize a reprogrammable aftermarket injection system. Holley, Accel and Electromotive all make such systems. Install 83 lb/hr injectors and a return-style fuel pump/regulator/line package capable of maintaining at least 60 psi. The 62 mm throttle body from a 2003/04 Mustang cobra will work for air control.
Install a set of custom made turbo exhaust headers with 314 stainless steel flanges and 2-inch diameter, 321 stainless steel tubes. Utilize a set of electronically activated exhaust wastegates. Use a set of turbochargers with 70 to 72 mm inlets; no matter what manufacturer or compressor trim level you choose, horsepower is ultimately determined by inlet housing size.
Connect the turbocharger outlets to the throttle body via the largest capacity air-to-air intercooler that will fit in your vehicle.
Tip
check This combination should be good for 1000+ horsepower on 93 octane pump gas and over 1,500 horsepower on 114+ octane race gas.
More Articles
Photo Credits
photo_camera dragster engine image by Robert Young from Fotolia.com