How to Get an Antique License Plate in Pennsylvania
by Samantha Volz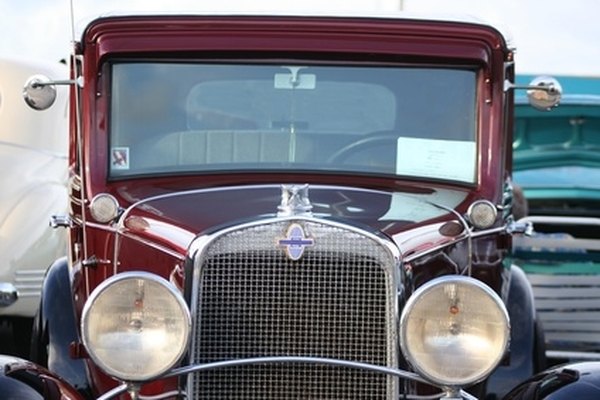 According to the Pennsylvania Department of Transportation, Bureau of Motor Vehicles, a vehicle is considered an "antique" if the vehicle is original (not a reproduction), was manufactured more than 25 years before the current year and has been maintained or restored in a condition that keeps the vehicle to the original manufacturer's specifications. Antiques can be cars as well as trucks or buses, as long as the truck no longer hauls cargo and the bus no longer carries passengers. Pennsylvania sets these vehicles apart with designated antique license plates; those who think they may own an antique vehicle must apply for the plates through the DMV.
Fill out form MV-11 from the Department of Motor Vehicles: Application for Antique or Classic Registration Plate.
Include other necessary documents with your application. If you own the title to the car, include the certification of title (form MV-4) with the application. If the vehicle is being transferred to a new owner and the new owner is applying for the plates, include the Vehicle Sales and Use Tax Return/Application for Registration (MV-4ST) and an Application for Certificate of Title (MV-1). These forms show proof of ownership.
Take four color photographs of the car: one of the front, one of the rear, and one each of both sides. These will show the DMV that the vehicle is in good condition. Include this with your application.
The required fee for antique license plates is $75, payable to the "Commonwealth of Pennsylvania." You can use a check or money order.
Mail all documents and the check or money order to the Pennsylvania Department of Transportation. (See Tips below for complete address.)
Tips
check The mailing address for the DMV is:
check Commonwealth of Pennsylvania
check Department of Transportation
check Bureau of Motor Vehicles
check P.O. Box 68031
check Harrisburg, PA 17106
check If the only proof of ownership of the vehicle you have is a Pennsylvania Certificate of Salvage, you must fill out form MV-426B: Application for Reconstructed, Specially Constructed, Collectible, Modified, Flood, Recovered Theft Vehicles and Street Rods.
Warning
close Antique vehicles can only be used for occasional transportation, no more than one day per week.
References
Photo Credits
photo_camera antique car image by Joseph Chiapputo from Fotolia.com