How to Remove a Vespa Gas Tank
by Thomas West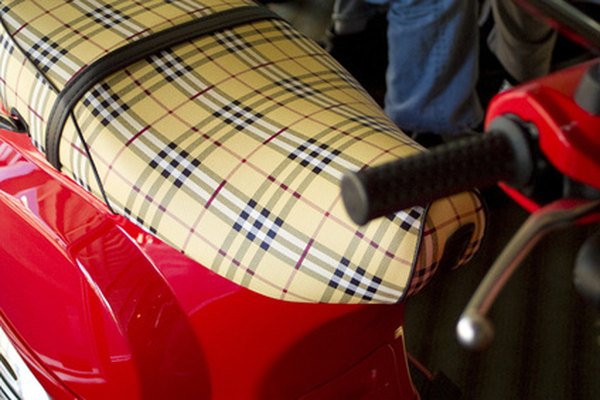 Vespa has been manufacturing motor scooters since the 1940s. The founder of the company had a desire to produce inexpensive transportation for the masses and ended up designing a two-wheel vehicle that many different manufacturers have copied over the years. The Vespa scooter does not utilize foot pegs, but instead has a flat floor at the front for your feet. The engine and gas tank are concealed under the seat for a streamlined look. You can remove the gas tank if needed for replacement or repair.
1
Fold the seat up to reveal the hinge bolts. Remove the three bolts with an 11 mm wrench in a counterclockwise direction and place them aside. Lift the seat assembly straight up and place it aside.
2
Turn the fuel petcock lever off, or to the vertical position, so that it will fit through the hole frame when the fuel tank is removed.
3
Open the fuel filler cap and insert the intake hose of a gasoline siphon pump. Place the output hose into a gas can and pump the siphon handle until all or most of the fuel has been removed from the tank. Skip this step if your gas tank is empty.
4
Locate the four retaining bolts on the rear edge of the top of the fuel tank, which should be clearly visible once the seat has been removed. Remove the bolts with an 11 mm wrench in a counterclockwise direction and place them aside.
5
Lift the rear edge of the fuel tank straight up slightly, making sure the fuel petcock and sight glass clear the frame underneath the tank. Lift the tank straight up from its mounting to reveal the gas hose still attached to the underside of the tank. Place a rag under the tank to catch any spilled fuel. Remove the gas hose from the bottom of the tank with a pair of pliers.
6
Remove the tank from the scooter.
References
More Articles
Photo Credits
photo_camera Vespa Scooter Seat image by Billy Tait from Fotolia.com