How to Lease a Tow Truck
by Michael Ryan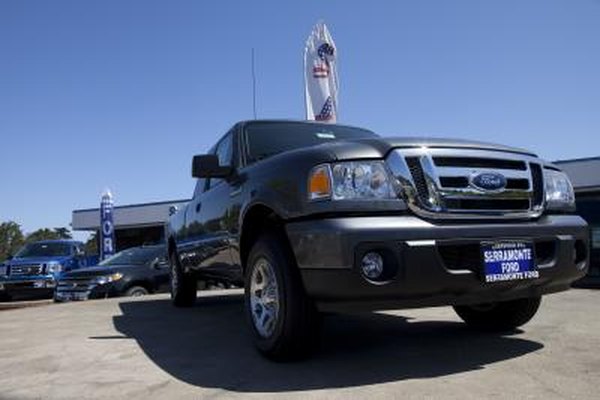 Leasing a tow truck can help you offset the high cost of a vehicle that you may only need to keep in your fleet for a few years. Compared with a traditional loan, where you must finance the entire purchase price and pay interest over a set term, a lease requires you to finance only the tow truck's depreciation, plus interest, which can leave you ahead in the long run. Not only can leasing help you lower your monthly bills, but it also helps you keep your fleet updated, as you can exchange one truck for another at the end of a lease.
1
Choose your tow truck. There are variety of chassis and towing accessories that can be installed on a truck. Before requesting lease quotes, determine exactly what you are looking for in terms of cab style, engine and accessories. This allows you to compare lease quotes across brands, dealerships and leasing companies. You may choose to lease a new truck or a used truck; it is a matter of your budget and needs.
2
Determine your budget. Calculate how much your towing business can afford to spend each month. This will give you a figure to aim for as you negotiate with dealerships. As Fleet Sales West notes, a lease is beneficial because it is not long-term debt for a towing company; the depreciation is factored into the monthly payments and the ultimate responsibility for the truck's value is with the leasing company.
3
Contact a dealership. When you have started to narrow what you are looking for, call or visit a dealership and speak to a fleet sales specialist. Let him know what you are looking for and ask if he offers any leasing programs. Some dealerships have internal leasing companies that specialize in tow trucks and other customized vehicles, while others will prepare your quote through a third-party leasing firm.
4
Review bids. After you have contacted multiple dealerships regarding similarly equipped vehicles, it is time to review the bid proposals. Although human nature says to go with the lowest monthly payment, there are other things to consider. For example, a shorter-term lease may have a higher monthly payment, but it will let you replace the tow truck with a newer one sooner.
5
Visit the dealership and complete the leasing paperwork. Make sure that the contract and bill of sale are representative of the prices and monthly payments that were agreed upon with the fleet manager.
Warning
close Many retail leasing companies like GMAC, Ford Credit and Huntington Bank do not offer competitive leasing on commercial vehicles like tow trucks. You may find that your lease is through a company specializing in heavy equipment or the dealership's internal leasing company.
More Articles
Photo Credits
photo_camera David Paul Morris/Getty Images News/Getty Images