How to Get Farmer Tags in New Jersey
by Kelli Peacock Dunn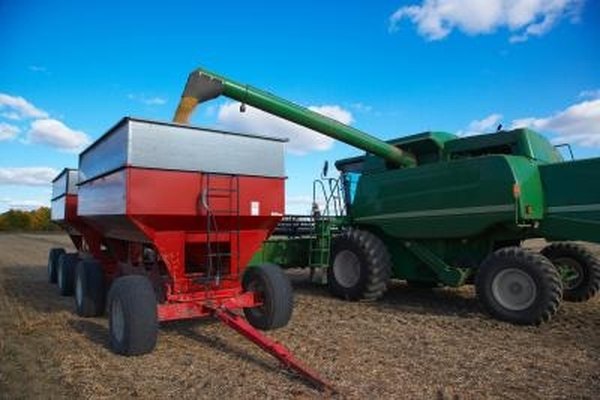 If you are a farmer in New Jersey, you are entitled to receive a farmer tag to be placed on your farm trucks and tractors. These license plates are available to farmers with a minimum of five acres of farmland and can be used on vehicles that transport farm products or supplies, as well as on snow removal vehicles serving a municipality.
Verify that you are eligible. Review the New Jersey law on farmer plates to determine that you are eligible to receive one. According to New Jersey Statute 39:3-25, a farmer is defined as "any person engaged in the commercial raising, growing and producing of farm products on a farm not less than five acres in area." Your farm vehicle must be used to transport farm products or supplies to be eligible for a farmer tag.
Obtain a farmer's certificate. Contact your local Rutgers Cooperative Extension office to obtain a farmer's certificate. This is required before applying for your farmer's tag. A directory of Rutgers Cooperative Extension offices is available on the official website (njaes.rutgers.edu/county). Click on the county where your farm is located to find the office nearest you.
Apply for the farmer tag at the motor vehicle office. Stop by the New Jersey motor vehicle office in the community where your farm is located. You can find the office nearest you at the State of New Jersey Motor Vehicle Commission website (state.nj.us/mvc). Office hours are Tuesday through Thursday from 8 a.m. to 7:30 p.m., Wednesday and Friday from 8 a.m. to 4:30 p.m. and Saturday from 8 a.m. to 1 p.m. New Jersey motor vehicle offices are closed on Mondays.
Obtain reciprocal agreement forms. If you are hauling farm supplies between New Jersey, Delaware, New York and Maryland, within 150 miles of your farm, you are required to have a reciprocal agreement document in your farm vehicle. This exempts you from having a commercial registration. These forms can be accessed on the New Jersey Department of Agriculture website (www.nj.gov/agriculture). Once you complete these forms, keep them in your farm vehicle at all times.
Photo Credits
photo_camera Jupiterimages/Photos.com/Getty Images