Dodge Truck Transmission Tips
by Steve Brachmann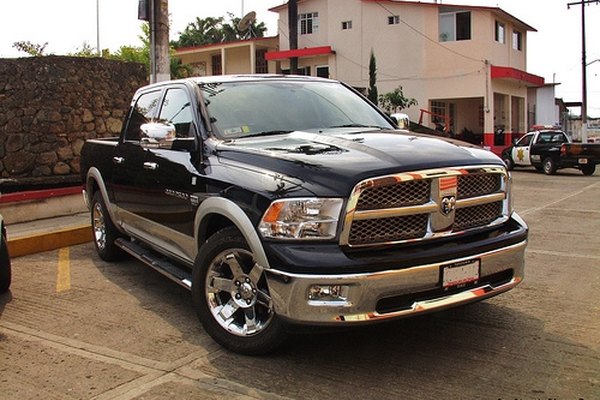 In the world of automobiles, the transmission converts the energy produced by your car's engine into torque, which is transmitted through the axle to the drive wheels. A powerful transmission allows more energy to be transferred into the drive wheels, creating more horsepower and towing capacity. Transmission power is especially prized in trucks, which are designed to either carry or tow heavier loads. Dodge, an American-based car brand, currently offers both the Dakota and Ram truck models to consumers. Some basic tips on proper transmission care will help keep your Dodge truck operating longer.
Identify Your Transmission Type
To find how best to care for your truck's transmission, you need to identify what style of transmission your truck uses. Dodge truck models support automatic transmissions, which automatically switches gears using engine sensory equipment, and manual transmissions. Automatic transmissions are standard on the Dodge Ram 1500 and 2500; they're also available as an option for the four-wheel-drive or front-drive models of the Dakota. Manual transmissions are also a Dakota option and come standard on Dodge Ram 3500. If you use a stick shift and clutch pedal to switch between gears manually, then your Dodge truck utilizes a manual transmission. If it switches gears automatically, your transmission is an automatic assembly.
Transmission Oil Changes
Because of the complex assemblies and small parts involved with automatic transmissions, transmission oil is used to keep these individual parts operating longer. The transmission oil will need to be changed at regular intervals to prevent excess wear or malfunctioning. Your model-specific Dodge truck owner's manual will have specific guidelines on when to change your transmission oil. As a rule of thumb, transmission oil should be changed every 35,000 miles or so. Do not drive for longer than 40,000 miles between oil changes, unless your Dodge truck owner's manual states otherwise.
False Park Defect
In 2000 and 2005, Dodge issued voluntary recalls on truck models with a false park, or "park-to-reverse," defect. The 2000 recall was for 1991 to 1992 Dodge Dakotas; the 2005 recall asked for consumers to return any Ram truck manufactured between 2003 and 2005. The defect is only present on vehicles using an automatic transmission. False park is a defect caused by a faulty automatic transmission that may shift the car into reverse while it is idling in park. In a 2007 civil suit, Dodge was ordered to pay almost $55 million in damages for injuries and deaths associated with this defect.
Common Dodge Transmission Issues
The Center for Auto Safety keeps detailed statistics and reports on safety and operational concerns associated with specific car models. According to a report about Dodge Dakota trucks, common issues included noisy shifting, delayed gear shifting and grinding sounds during normal use. A report on all three models of the Dodge Ram, including the Ram 1500, the Ram 2500 and the Ram 3500, lists failure to work in below freezing temperatures, delayed gear shifting and noise at lower RPM levels as common transmission issues. All of these problems are more prevalent in Dodge trucks utilizing automatic transmissions. If your Dodge truck experiences any of these problems, refer to owner manual guidelines on troubleshooting principles, or seek the help of a professional mechanic.
References
More Articles