Differences Between LT & LTZ
by Kelvin Hayes

Scott Olson/Getty Images News/Getty Images

The "LT" and "LTZ" are a combination of letters used by Chevrolet to delineate different levels of trim on their line of Tahoe SUVs. The letters are not acronyms. The trim of a vehicle, also known as the features, starts at a "base" level, including features like air conditioning, power locks and power windows. As the trim level progresses, options are added, such as a CD player, heated seats, a more powerful engine or navigation. At first glance, the LT and LTZ seem to be identical vehicles. However, under closer inspection, you'll find a few subtleties that make the LT slightly more luxurious than the LTZ.
LT Vs. LTZ Power-train
In the area of engine performance, the LT and LTZ are both equipped with an identical 5.3 L V-8, cranking out 326 horsepower and 348 foot-pounds of torque. As a result of the identical power train, both models have a city and highway fuel consumption of 11 and 16 mpg respectively. Both models also are available in two- or four-wheel drive and accept E85 flex fuel, which can dramatically affect fuel efficiency. Using E85, the city and highway mpg will jump to 15 and 21 respectively.
LT Vs. LTZ Exterior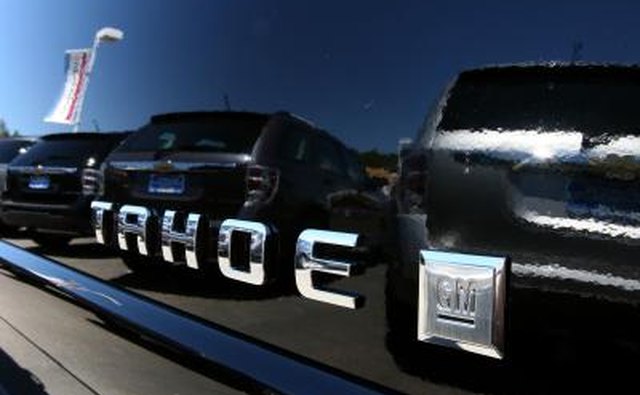 The similarities continue on the exterior of the LT and LTZ as well. Both models weigh in at 5,635 lbs., with a wheelbase of 116 inches, an overall length of 202 inches and a height of 76.9 inches. From the exterior, you simply cannot tell the difference between an LT and an LTZ. But this changes on the inside.
LT Vs. LTZ Interior
The LTZ has an eight-passenger capability, with an extra folding seat; the LT has room for seven. Despite the extra capacity, the LT and LTZ have identical interior dimensions, with 41 inches of headroom and 39 inches of rear legroom. An interesting side note, the base model Tahoe LS, with a price tag $5,000 less than the LTZ, has seating capacity for nine. The LT and LTZ both come standard with CD player, cruise control, air conditioning, power windows, front/rear/side airbags, multiple adjustment driver seat, wood grain dash and navigation. Again, nearly all elements are identical, with the exception of the LT having a six-setting programmable driver seat, coming home device (which includes two programmable garage door openers) and dusk-sensing headlights.
LT Vs. LTZ Suspension
While almost all the suspension and braking elements are identical, one major difference is in the LT's ride comfort. This is due to a rigid rear suspension beam, like the LTZ, that swaps coil springs for airbags. Chevy does not specify if its rear airbag suspension can be controlled manually via a driver-operated switch (most aftermarket air ride suspensions offer this manual control standard during installation). The mere presence of the airbags, however, will improve corner handling by reducing roll and increase payload/towing capacity when comparing to the coil spring performance.
Considerations
References
Writer Bio
Kelvin Hayes has been writing professionally since 2009 as a freelance copywriter. He runs his own online business, writing ebooks, reports and information products. Completely self-taught, Hayes prides himself on creatively completing writing projects by pulling from his wide range of life experiences.