How to Build a Pull-Behind Motorcycle Trailer
by Nathaniel Miller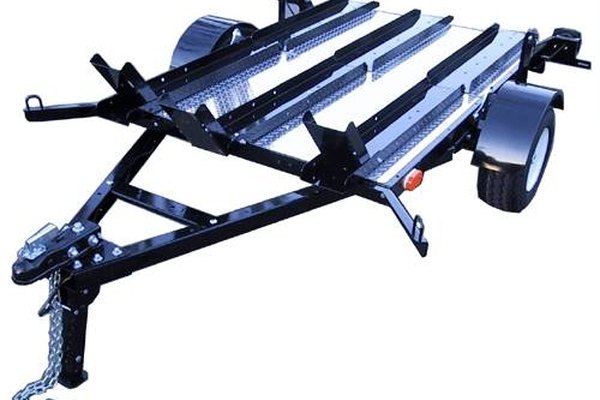 Pull-behind motorcycle trailers are great for trips when you know you will want your motorcycle once you get to your destination, yet you don't necessarily want to ride the bike all the way there. You can also use pull-behind motorcycle trailers to haul your motocross or dirt bike to the track or local trail easily. No more paying outrageous gas bills for that big truck you have been using. Sell the truck and build a motorcycle trailer to pull behind your much more economical SUV today.
1
Purchase a used or damaged pop-up camping trailer. You can find these most easily by scanning the local classifieds or asking friends and neighbors. Look for the old soft-sided trailers with rusting and rotting body panels, but they should have solid frames and axles.
2
Gut the entire trailer by using the sledge hammer and sawzall to pull out old flooring, beds, stoves and sinks. Use the grinder to cut old piping and sheet metal and pull up the floor boards with the crowbar, stripping the entire trailer down to the bare skeleton frame. This will be the frame for your motorcycle trailer. It should be sandblasted down to bare metal. Make sure to leave all of the electrical wiring for lights and brakes intact.
3
Paint the frame and seal the undercarriage with rubber sealant found at the hardware store (this prevents rust and corrosion). Place two lag bolts through predrilled holes in the wood decking at the intersection of every trailer frame crossmember and torque down tightly. The style of flooring you build is completely up to your design. You can build a gapless floor or leave small holes in the flooring for mud and water to escape.
4
Mount the tie-downs in locations around the trailer that would be convenient for attaching to motorcycle handlebars, wheels, and seats. You can also design a front fork mounting system by building a short backstop made of lumber on which you can tie your front wheel during trailering sessions.
More Articles
Photo Credits
photo_camera http://a79.com/wp-content/uploads/2008/04/honda-valkyrie-rune1.jpg