BMW 335i Vs. BMW 335xi
by Rob Wagner

IFCAR, Norris Wong, PressPix Photography

One only has to look out the window, say in January, to determine whether a BMW 335i or the all-wheel-drive 335xi, dubbed by BMW as xDrive, is the right car to own. Three feet of snow on the ground? Roads slicked with rain? OK, the 335xi might be the answer--but there is also no wrong answer here. Both models are superb performers, yet the 335xi gives that extra measure of comfort.
335i Specifications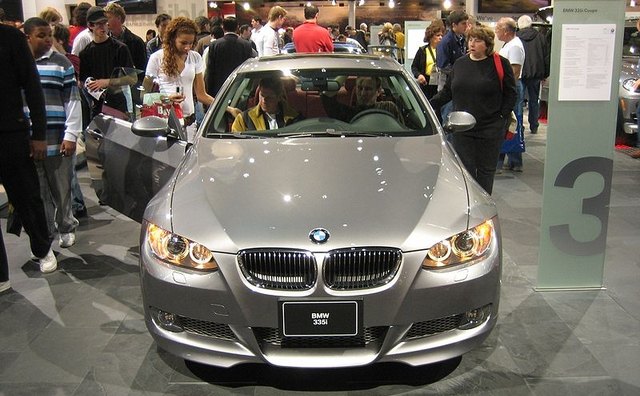 The 335i is offered as a front-wheel drive and comes as a two-door coupe, sedan, wagon and convertible. Under the hood is a twin turbo 3-liter inline six-cylinder engine. The 335i is placed on a 108.7-inch wheelbase. The coupe is 181.1 inches long, while the convertible measures 180.6 inches and the wagon 178.2 inches. Gas mileage is rated 17 mpg in city driving and 26 on the highway. The coupe weighs 3,593 pounds. (See Reference 5.)
XDrive Specifications
335i and xDrive Appearance
The 335i and the xDrive models' exterior styling has always been conservative. Minor facelifts have been given to the front and rear, but it otherwise remains the same as the 2008 models. A Sport Package offers 18-inch wheels and dark trim around the windows instead of chrome. Park distance control, a leather-trimmed steering wheel and an iPod/USB adapter are among some of the options. The cabin is fairly luxurious with leather seats. The xDrive's profile is raised slightly higher than the standard 335i due to the suspension system. (See References 1-6).
Feeling Special
The xDrive is marketed as an intelligent all-wheel-drive system that intuits driving conditions by sending power to the wheel that requires the surest grip. The system is built with rear wheel bias for the best hold on the road, but spreads torque evenly to all wheels under normal driving conditions. However, if the system senses slippage in any of its wheel, torque power is shifted to that wheel to provide maximum traction. (See Reference 3.)
Under the Hood
The 335i and the xDrive are powered by a direct-injected turbocharged 300-horsepower 3-liter inline six-cylinder engine. Torque remains the same for both models: 300 pound-feet, but with the xDrive making better use of it. (See References 2 and 4.)
335i and xDrive Performance
With a six-speed manual transmission, the 335i can reach 0-60 mph in 4.8 seconds and the quarter-mile in 13.4 seconds at 104.3 mph. The xDrive's 200-plus pounds drop its 0-60 mph performance by adding a half-second. The xDrive's out-of-the-gate performance is nothing to fret about on visits to the supermarket, but BMW owners can be a bit performance-obsessed and it might make a difference when writing a check at the showroom. (See References 1-6.)
Head-to-Head
The 335i edges the xDrive in all-out straightaway speed, but not enough for most people to deny themselves the all-wheel-drive version. The xDrive has a tendency to understeer when coming out of tight corners, but its grip in wet conditions is evident compared to two-wheel-drive performance cars. (See References 1-6.)
IFCAR, Norris Wong, PressPix Photography
More Articles